urbanJATRA
Kalamandir Dance Company Choreography & direction by Brinda Guha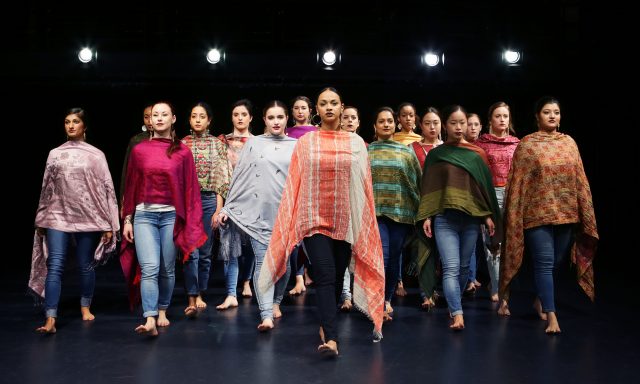 About This Show
Under the direction of choreographer Brinda Guha, urbanJATRA fuses the dynamic movement of Classical Indian dance and Contemporary world music and dance forms. 
With urbanJATRA, Kalamandir Dance Company explores a circular and immersive sensibility with an original storyline, creating a new paradigm that delves into free choice, true fate and personal devotion: all common themes understood in the world of Classical Indian performing arts
"Needing what feels like space we can't see, energy we can't feel, and time we don't have, we use our third eye to create outcomes worthy of our own desires, manifesting a path directed towards possibilities of our unrealized dreams. It is also a reflection back to the birth and to-date progress of the Contemporary Indian vocabulary of movement through the lens of my personal experience as a second-generation Indian American. The goal is to plant seeds of the past: acknowledging what came before in order to see clearly about the potential of the future," says Brinda Guha.
Featuring 18 diverse NYC dance artists and interdisciplinary visual/audio arts (photography by Francisco Guijarro, live painting by Zac Crawford, audio by TEDxCreativeCoast speaker Kolby Harrell, poet Suheir Hammad, and original writing by Brinda Guha), this new work reveals individual journeys toward ultimate goals, which inevitably change as our lives progress.
Dancers: Amanda Peterson, Stephanie Lim, Stephanie Noble, Maria Fadden, Lina Jonnerhag, Ambika Raina, Montana Sholars, Ramita Ravi, Anjana Ghonasgi, Cassie Broussard, Misaki Hayama, Susana Blanco Fernandez, Rashmi Rajendran, Lisa Bathily, Morgan Lamb, Victoria Vikstrom & Ellen Henry; understudies Julia Sitch (4/6-7, 4/13-14) & Chitra Subramanian (4/13-14).
This Dixon Place commission is made possible, in part, with private funds from the Mertz Gilmore Foundation, Jerome Foundation, Jerome Robbins Foundation and Harkness Foundation for Dance, and public funds from NY State Council on the Arts w/the support of Gov Andrew Cuomo & the NY State Legislature.
about Kalamandir Dance Company
Kalamandir Dance Company (501c3) is a contemporary dance ensemble that uses the vocabulary of classical Indian dance to explore new spaces of artistic expression. Instead of diminishing the foundation of our classical styles, we look to investigate their communicative potential when merged with Western dance traditions. Using Kathak, Bharatanatyam, Manipuri, Odissi, Flamenco, Contemporary, Jazz, African and Ballet training, our dancers collaboratively converse with movement and create dialogue with expression. We are driven by creativity, human emotions, and a desire to be released from the four walls of our daily existence. Our movement vocabulary is a collective effort that aims to create a reachable area for all people to participate and communicate.
Thursday March 29th (previews) - $12.00
Fridays & Saturdays,
March 30, 31, & April 6, 7, 13, 14, 2018 at 7:30pm
March 29th (Previews) $12.00
General: $19 in advance and $22 at-the-door
Students & Seniors: $15 any time
Estimated Runtime
50 mins
share £
Credits
Photo credit
Peter Yesley