PEN World Voices Festival of International Literature

Transcendent Obscenity

With Gengoroh Tagame, Simon Hanselmann & Julia Gfrörer. Moderated by Jennifer Camper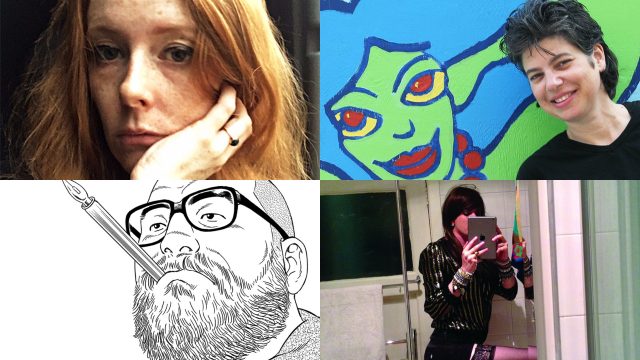 About This Show
Renowned comic artists who put the graphic in graphic art talk and illustrate the limits of obscenity, with renowned graphic artists Gengoroh Tagame (Japan), Simon Hanselmann (Australia), and Julia Gfrörer (U.S.). Moderated by Jennifer Camper.
about the panalists
Julia Gfrörer is an American cartoonist living in New York. She is the author and illustrator of Black Is the Color and Laid Waste for Fantagraphics Books. Her name is pronounced something like "gff RUE er" to an actual German speaker, but generations of American accents have evolved closer to "gff RARE" or "grr FAIR." She won't be upset if you get it wrong.
Jennifer Camper is a cartoonist, graphic artist, author of Rude Girls and Dangerous Women and subGURLZ, and an editor of two Juicy Mother comics anthologies. Camper, the founding director of the biennial Queers & Comics Conference, has had her work exhibited internationally.
Gengoroh Tagame is a gay-erotic-manga writer and artist and has been drawing comics for more than 30 years. He lives in Tokyo with his husband and is a direct descendant of Samurai warriors.
Simon Hanselmann is a New York Times best-selling cartoonist. Hanselmann has found international success with his stoner-witch comics, Megahex and Megg & Mogg in Amsterdam, which have been translated into over a dozen languages. His newest book, One More Year, will be released in Spring 2017. When not making comics, Hanselmann can be found smoking cigarettes and walking a one-eyed dog.
Saturday, May 6 at 2pm
Estimated Runtime
90 minutes
share £
Credits
Photo credit:
Emmalee Aliquo (for Jennifer)
Gengoroh Tagame (for Gengoroh)
Links