The Prize, a twisted horror play in four acts
Louis DeVaughn Nelson & Hokum Arts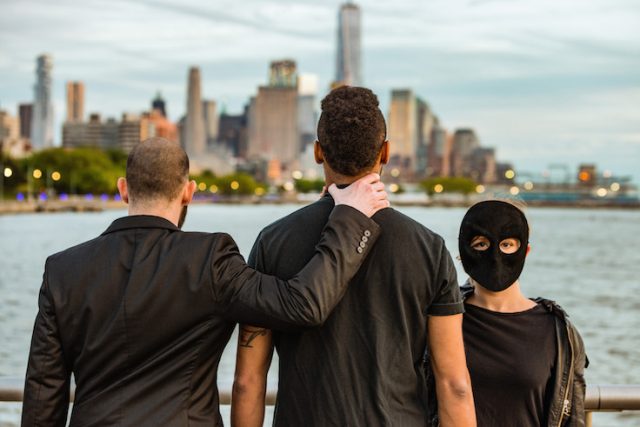 About This Show
Inspired by the classic short story The Most Dangerous Game by Richard Connell, this black satirical horror comedy tells the story of two powerful corporate couples from the LGBT community vying for a most heinous albeit coveted prize. Markus and Holger versus Susan and Marla. All members of a secret society of formidable gays, these two teams have a longstanding camaraderie and rivalry based on capitalistic greed. Constantly wagering their minions against each other (in the arena of the arts of all places), their covert attempts to win it all backfire in the end.
Featuring: Christin Eve Cato, Vince Chang, Taylor Harlow, Stephanie Israelson, Phillip Pineno, Jamie Ragusa, Caity Urquhart
about the artist
Louis DeVaughn Nelson is a multidisciplinary artist and founder of Hokum Arts. He studied dance and playwriting at DeSales University and Drexel University. Nelson was named Best New Choreographer by Philadelphia City Paper and has been recognized internationally for his theatre, dance and video work that delves into cultural and movement research. Credits Include : The Peekaboo Revue, English Theatre Berlin, The Berlin Music Video Awards, Tanzbad 4,  CTM – Festival for Adventurous Music and Related Arts, CIANT Festival for Film and New Media, Dark Matter Productions NYC, Exquisite Corpse Company NYC. More info : Facebook : Hokum Arts
Thursday, July 20 at 10pm
General Admission
$15 in advance
$18 at the door
Stu./Sen./idNYC
$12
Estimated Runtime
75 minutes
share £
Credits
Written and Directed by
Louis DeVaughn Nelson
Assistant Director
Maren Woodward
Script Supervisor
Carlos E. Rojas
Stage Manager
Jeffery Buck Wright Jr.
Photography by
Ben Riley
Graphic Design
Melissa Lindsay Pond-Exner
Photo credit:
Ben Riley
Links