The Origin of Irrevery
Paige Johnson-Brown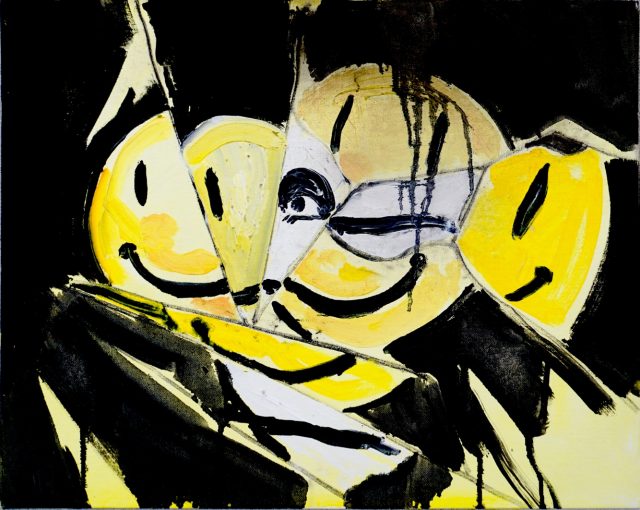 About This Show
The Origin of Irrevery traces the path to self-realization through music, dance, film, and poetry. Drawing from Wagner's concept of Gesamtkuntswerk, Jungian psychology, the vernacular of country music, and the imagery of Butoh, German Expressionism, and Bauhaus, The Origin of Irrevery is a staged telling of a psychological odyssey. It centers around SHE, a frowning misfit in a world run by THEM, smiling, normal, and growing increasingly more uncomfortable by HER inability to smile along as well. We meet HER at the end of a silent, personal war with THEM, HER subconscious on the eve of the brink of confrontation. This confrontation and the eventual construction and deconstruction of The Mask, a visage developed to impress THEM and conceal HER true nature, is guided by IRREVERY.
The Origin of Irrevery: Masking and Unmasking
What is this odyssey? you ask
Confronting us, compelling us to
Construct and deconstruct the Mask
Taking the smiling senseless to task
Turning instead to the misfit
To help change the visage at last
Behold and hear this outcast
Who will not, cannot play along
Construct and deconstruct the Mask
Step in time to join the dance
Of Stormy, Jacquelyn, and Cara
To help change the visage at last
Props and costumes? you ask
Thank Boiled Wool. While Winick and Wakeman films
Construct and deconstruct the Mask
The soundtrack for our cast
Is by Irrevery, playing, singing, as we
Construct and deconstruct the Mask
To help change the visage at last
about the artists
Paige Johnson-Brown leads the punk-country-noise band and art collective, Irrevery. She composes, writes, arranges, performs, manages, and makes records, books, and films. For the past 3 years, Paige has been creating Irrevery Volume I: a book of illustrated lyrics featuring 11 different artists, three music videos, and a full-length record of original music. In March Irrevery released their book at The Living Mixtape: A Bizarre Bazaar and in July screened their three music videos at The Polypsychic Picture Show. They are looking forward to officially releasing their record on November 19th.
Stormy Budwig is a dance artist and writer. She has presented dance work at Rabbithole Projects Gallery, Five Myles Gallery, AUNTS, Green Space, Dixon Place, Spoke the Hub, MR Open Performance, and DanceRoulette, and is currently an Artist in Residence at Chez Bushwick. Stormy writes for The Brooklyn Rail and Culturebot, and teaches intergenerational movement workshops with Sprat Artistic Ensemble. Stormy will be dancing with Aye Eckerson and Tara Sheena.
Cara Diaz is a professional dancer and aspiring choreographer in NYC. She has worked for companies such as Francesca Harper Project, commercials such as ADIDAS, and runway shows such as H&MxKENZO. She continues to inspire through her unique movement quality and choreography. Cara will be dancing with Kerime Konur.
Jacquelyn Marie Shannon is a Texas-born, Brooklyn-based theatre, dance, and ritual artist, teacher, theatre-maker, choreographer, costumer, curator, writer, and interdisciplinary bricoleur heavily influenced by Japanese Butoh dance, German expressionism, avant-garde theatre, circus, magic, spiritualism, Americana, and the nostalgic mythos and mysticism of the south. She has produced and performed both solo and ensemble-based work across the US and beyond, most notably in San Francisco as a core company member of Butoh-based performance ensemble Bad Unkl Sista under the direction of Anastazia Louise, and as a resident teaching artist in the Dance and Movement Studies department at Allegheny College in Meadville, PA. Jacquelyn will be dancing with Kirt Wiley.
Boiled Wool is the performance and music project of multimedia artist and designer Cynthia Chang. Chang lives and works in Brooklyn and is very tired all the time.
"What Kind of Loving"
"Desert Song"
"Just Like Me"
Friday, December 8, 2017 at 10pm
General Admission
$15 in advance
$18 at the door
Stu./Sen./idNYC
$12
Estimated Runtime
65 minutes
share £
Credits
The Irrevery Acoustic Ensemble are:
Jessica Ackerley, Caleb Brown, Susan Mandel, and Ben Murphy
The musical interludes are by:
Mary Spencer Knapp
The choreographers are:
Stormy Budwig, Cara Diaz, Jacquelyn Marie Shannon
The lights and film interludes are:
Joseph Wakeman and Brendan Winick with Preston Spurlock
The costumes and props are by:
Boiled wool
Photo credit:
Heather Morgan
Links