The Orchids
Connecticut River Valley Poets Theatre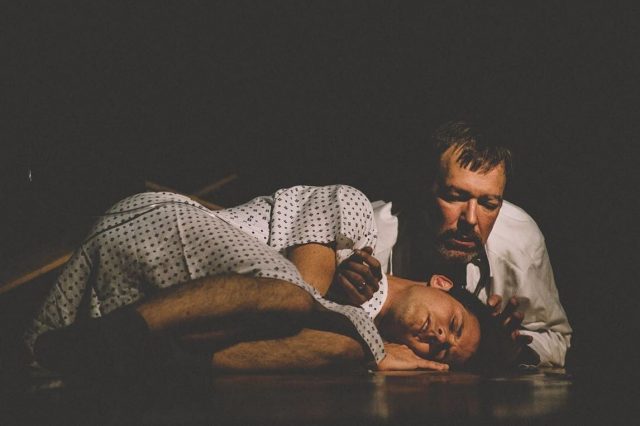 About This Show
The Orchids is a black comedy about two young people who get ensnared in a system that only sees their value as objects of commerce. In this technocracy information is all and true links are rare. Iris is starting her 'next life' without her memory and therefore without an idea of context. Leif responds to her cry of help. This is a play about overcoming sexual violence.
About the Artists
Stella Corso is a poet and performer living in Greenfield, MA. A founding member of the Connecticut River Valley Poets Theater, she also performs with local group Xfinity Theater. She has starred in "In A Word: FAUST" and "Drummer 41" by Ish Klein, "Fast Five" and "TODAY" by Patrick Gaughan, "Oak Street" and "Fire Brigade" by Wilson Yerxa, "Freedonia" by Greg Purcell, and her own one-woman show "The Pure Products of America Go Crazy".
David Feinstein was raised on jump shots, breakbeats, and hush puppies by transplanted red clay North Carolinian Jews. His poems have appeared in various places, including The Atlas Review, jellyfish, and Tin House, and he is the author of two chapbooks, Woods Porn: The Adventures of Little Walter (No Dear / Small Anchor Press, 2014) and Tarantula, forthcoming from Factory Hollow Press. When he's not writing he's probably teaching, acting, or lost in the woods somewhere near the Connecticut River Valley.
Sarah Beth Aspen McAlpine: writer; Voices from Inside facilitator; strategist; photographer; arts-oriented dabbler; digital, print, video, audio, and live performance media maker
John Sieracki spends most of his time puttering around his home and sleeping. He can also cook, and raise money in certain favorable conditions, like where he works at Mass Humanities. He has tried his hand at writing poetry and acting. He likes to bike and run on trails, too.
Ish Klein's most recent book of poetry is called Consolation and Mirth.  She has also written the plays Drummer 41, In A Word, Faust and The Orchids.  She lives with her partner: the poet and writer Greg Purcell.  www.ishklein.org
Greg Purcell is the author of The Fundaments, a book of poetry, and is an award winner in the science fiction racket. He is helpful and trusty and can supply rope and light
Theorizing that one could time travel within his own lifetime, Mike Wall stepped into Northampton and vanished… He woke to find himself trapped in the Pioneer Valley, facing mirror images that were not his own and driven by an unknown force to change history for the better. His only guide on this journey is Alejandro Jodorowsky, an observer from his own time, who appears in the form of a hologram that only Mike can see and hear. And so Mike finds himself leaping from life to life, striving to put right what once went wrong and hoping each time that his next leap will be the leap home.
Friday, January 13 at 7:30pm
General Admission
$15 in advance
$18 at the door
Students/Seniors/idNYC
$12
Estimated Runtime
70 minutes
share £
Credits
Written by Ish Klein
Featuring Stella Corso, David Feinstein, Sara Beth Aspen McAlpine, John Sieracki, and Ish Klein
Lights and Sound: Greg Purcell
Props: Mike Wall
Links