The Myth of Layla PLUS The White Stag Quadrilogy
Amy Khoshbin PLUS Dakota Rose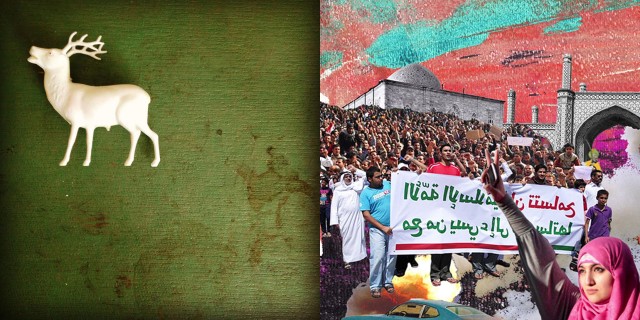 About This Show
The Myth of Layla
Written by Amy Khoshbin
Set in a near future when the U.S. is at war with Iran, "The Myth of Layla" explores the corruption of an Iranian-American activist's political ideology through participation in the American media system. As Layla's fame increases and she is cast on a new reality show called Activists in Sexy Solidarity (A.S.S.), she must choose between her beliefs, relationships, and dubious external forces. Handmade animation and multichannel video design serve as the set and supporting characters in this science-fiction themed solo performance.
The White Stag Quadrilogy
Written by Christopher Ford & Dakota Rose
In the land of impossible plots, Jerry Wolfert became a genre unto himself: war vet turned occult priest turned self published novelist turned pariah. With his ex-wife and an assortment of old pals in supporting roles, the surprises continued when he reinvented himself as a filmmaker. This is the story behind the making of Wolfert's four part cinematic triumph, The White Stag Quadrilogy, when the dark prince of North Hollywood moves into the ranks of the mythic.
About the Artists
Amy Khoshbin is a Brooklyn-based artist. She has shown her solo and collaborative work at venues such as Brooklyn Academy of Music (BAM), The Invisible Dog Art Center, The Stone, and festivals such as South by Southwest and MakerFaire. She is a 2014-2015 Lower Manhattan Cultural Council Workspace Resident, has a forthcoming residency at The Watermill Center (2015), and has completed residencies at Banff Centre for the Arts in Canada, Team Effort! in Scotland, and at Tisch School of the Arts at NYU. She has collaborated with Laurie Anderson, Karen Finley, and poets Anne Carson and Bob Currie among others.
Dakota Rose & Christopher Ford: Co-founders of On the Rocks. Previous OTR credits (selected) include the Echo Park and New York City transfer of Marat/Sade, the Nashville mount and New York transfer of McBeth, the fabled West Coast workshops of Bertolt Brecht and Kurt Weill's The Rise and Fall of the City of Mahagonny, and the 2015 premier of Wolfert at Dixon Place.
Chloe Kernaghan (Choreographer) works primarily in theatre and film. Her work has been put up at MoMA's PS 1 VW Dome, BAM Fischer Theatre, Gene Frankel Theater, film festivals around the world, and many a YouTube/Vimeo channel. She's worked on pretty much every production On The Rocks has ever created.
Wednesday, Jul. 1 at 7:30pm
General Admission
$12 in advnace
$15 at the door
Students / Seniors
$10
Estimated Runtime
45 minutes
share £
Credits
Myth of Layla
Writer/Co-director/Video Designer/Performer
Amy Khoshbin
Co-Director
Liz McAuliffe
The White Stag Quadrilogy
Produced by
On The Rocks
Written by
Christopher Ford & Dakota Rose
Directed by
Dakota Rose
Choreographed by
Chloe Kernaghan
Cast
Andrew R. Butler, Rebecca Miler, Derek Smith, Michelle Uranowitz, Jaime Wright
Links