The Itch
Throes Theater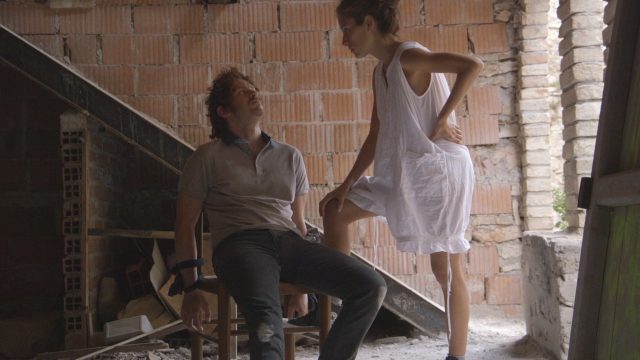 About This Show
Ana and Simon, sibling-collaborators, set out in one final attempt to change the inevitable. The Itch is a film- play about sibling love, addiction, and self-sacrifice.  It features original music and incorporates both film and live performance to explore a complex journey in time.
about the artists
Alexandra Zelman-Doring is a writer, director and performer whose pieces have premiered at theaters including The Flea Theater, 59E59, Dixon Place, Access Theater, Theater for the New City, Edinburgh Fringe Festival, and HERE Arts Center. She has collaborated with numerous contemporary composers including David Adamcyk, Jiří Kadeřábek, Viola Yip, and Mahir Cetiz. For the past four months, she worked as an intern at New York City Players, Richard Maxwell. Her work assisting Polina Klimovitskaya greatly influenced her unique approach to acting. She currently teaches at NYU's graduate Film program. www.throestheater.com
Gore Abrams is a NY based actor and filmmaker. Most recently he starred and produced in the feature films MOM (Distrital Film Festival Official Selection) and Summum Bonum(London East End Film Festival Official Selection, Los Cabos International Film Festival Official Selection) He will star in the independent feature Let Me Make You a Martyr this spring. New York Theater credits include: No Justice, Just Us; Gay Play and He Who Laughs, and Mike.
Allison Anderegg is a NY based actress and has performed in theatres and outdoor venues throughout the city, as well as on film and TV.  Recent credits include Make Up; a webisode of Toll Switch Calls, the Heights Players' production of The Women, New Brooklyn Theatre's Las Meninas, and several staged readings with Barefoot Theatre Company, of which she is an Ensemble Member.  
Joseph Huffman is a New York based actor. He loves to create work that is both risky and honest to the human condition. Since receiving his BFA  from NYU Tisch School of the arts he has worked  in television (Boardwalk Empire, Deadly Sins), independent film (Stealing cars, The Layover), as well as numerous off off broadway productions. In his spare time Joe continues to pursue his pipe dream of becoming a competitive boxer.
Dixon Place! Is where Rae C (OBIE-Award for her work w/NYStreet Theatre Caravan) (gratefully!) developed MUCH of her solo work including : She's Just Away! – a "comedy about grieving", and Animal Instincts!  Tales of Flesh & Tales of Blood about human & non-human animal relations.  Rae's the French Ambassador on Madame Secretary – most recently worked on 'The ForeverTree' – see it @ 2017 Bentonville Film Fest; is currently loving The Breaks, (PS122,Culture Project) which she wrote & performed w/Deb Margolin; was a happy and cranky flower girl in Taylor Mac's The Lily's Revenge; is DELIGHTED to be part of Ms. Zelman-Doring's work. www.raecwright.com
DAN BERKEY: Starting out as a mathematician in Minneapolis, my primary dream from grade school, it came as something of a surprise to everyone, especially myself, when I jettisoned my studies in graduate school in 1979 to pursue acting. Despite the considerable hardships of life in the Biz, I've never regretted it. I moved to New York to get professional training at NYU Tisch School of the Arts Graduate Acting Program in 1986 and received my MFA in 1989.  From that point I began working full time as a stage actor. In 2007 I began to explore film and TV. Since then I've completed 169 assorted film & TV projects.
Tuesday, February 7 at 7:30pm
General Admission
$15 in advance
$18 at the door
Stu./Sen./idNYC
$12
Estimated Runtime
60 minutes
share £
Credits
Technical Director
George Gavin
Links