IN THE LOUNGE

The Hat: Arendt Meets Heidegger

Karen Siegel, composer/soprano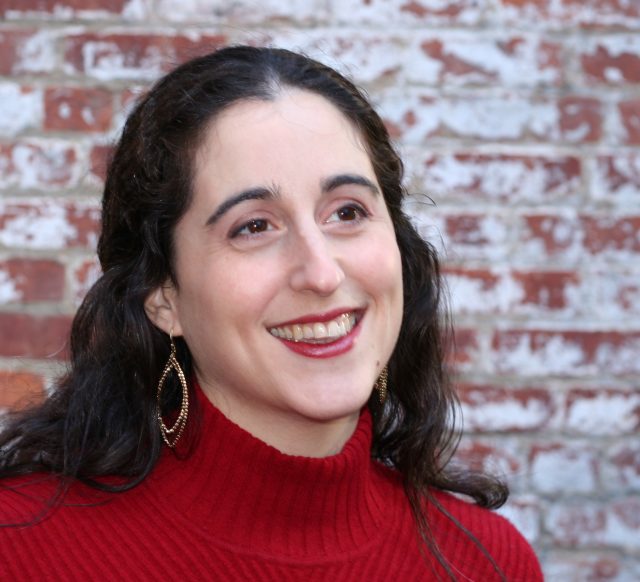 About This Show
The Hat: Arendt Meets Heidegger is an opera by composer Karen Siegel and librettist Zsuzsanna Ardó that imagines the powerful intellectual, emotional and sexual attraction in the first meetings of Hannah Arendt and Martin Heidegger, influential thinkers of the 20th century who sustained a relationship despite their disparate perspectives and backgrounds (Arendt was a Jew, and Heidegger joined the Nazi party).  A story of political and social relevance, The Hat is both serious and funny, engaging its audience, whether they are familiar with Arendt's and Heidegger's ideas or not.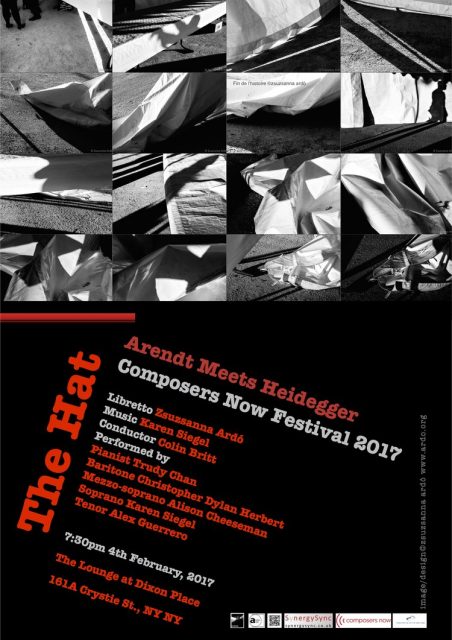 About the artists
Composer Karen Siegel draws on her experience as a vocalist in her creation of innovative choral and vocal works, praised as "exquisitely well-crafted," "brilliant and delightful," and "gorgeous, suggestive of both regret and possibility." Honored with awards from the Esoterics, Khorikos, the NY Virtuoso Singers, the Manhattan Choral Ensemble, and the CUNY Graduate Center, among others; her works have been performed by vocal ensembles throughout the US including C4: the Choral Composer/Conductor Collective, which she co-founded in 2005.  Her work Saguaro is featured on C4's 2013 album Volume 1: Uncaged.  Karen's works are published by See-A-Dot Music Publishing (www.SeeADot.com) and self-published through Chestnutoak Press (www.KarenSiegel.com).
Librettist Zsuzsanna Ardó is human by inclination, humorous by nature, and a writer, artist and curator by profession.  To bring together creatives internationally and investigate contemporary society and culture creatively and critically, out of the box and out of the white box, she runs Creatives without Borders. She has collaborated with several composers, many in NY by C4.  Her articles and books have been published internationally, e.g. openDemocracy and Oxford University Press. Her Mirror Mirror poem has been translated into many languages in Europe and beyond, including Hindi, Urdu, Macedonian and Welsh.  Her work has received several awards and fellowships, including two by Arts Council England.
American baritone Christopher Dylan Herbert performs concerts and opera throughout the world, frequently with his twice GRAMMY®-nominated ensemble, New York Polyphony.  Hailed by Opera News for his "exceptional" singing, Christopher is a recipient of awards from the Sullivan Foundation and the Gérard Souzay Competition. His outdoor Winterize/Winterreise project with Make Music New York was described by The New York Times as "brave and, in all senses, chilling."  Recent engagements include John Cage's Renga with the San Francisco Symphony, the title role in Handel's Saul for Trinity Wall Street's Twelfth Night Festival, and the world premiere of Judd Greenstein's A Marvelous Order with the NOW Ensemble.
Saturday, February 4 at 7:30pm
Estimated Runtime
45 minutes
share £
Credits
composer/soprano:
Karen Siegel
librettist:
Zsuzsanna Ardó
baritone:
Christopher Dylan Herbert
mezzo-soprano:
Alison Cheeseman
baritone:
Alex Guerrero
piano:
Trudy Chan
conductor:
Colin Britt
Photo credit:
Brian Critz
Links