Einstein Literary Management presents

Spine Out: Novelists Read Personal Essays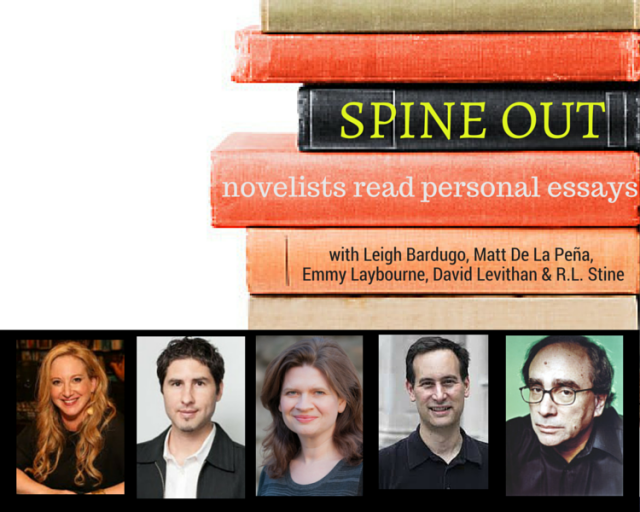 About This Show
As the official kick-off to the NY Teen Author Festival, bestselling authors Leigh Bardugo, Matt De La Peña, Emmy Laybourne, David Levithan and RL Stine will read personal essays ranging from heartfelt to shocking in an intimate show.
About Artists
Leigh Bardugo is the New York Times and USA Today bestselling author of the Grisha Trilogy: Shadow and Bone, Siege and Storm, and Ruin and Rising. She was born in Jerusalem, grew up in Los Angeles, and graduated from Yale University. Leigh has worked in advertising, journalism, and most recently, makeup and special effects. These days, she lives and writes in Hollywood where she can occasionally be heard singing with her band. Her new book, Six of Crows, arrives fall 2015.
Matt de la Peña is the author of six critically-acclaimed young adult novels (including Mexican WhiteBoy, The Living and The Hunted) and two award-winning picture books (A Nations Hope and Last Stop on Market Street). Matt received his MFA in creative writing from San Diego State University and his BA from the University of the Pacific, where he attended school on a full athletic scholarship for basketball. Matt currently lives in Brooklyn, NY with his family. He teaches creative writing and visits high schools and colleges throughout the country.
Emmy Laybourne is a novelist, screenwriter and former character actress. Emmy's Monument 14 trilogy has earned critical praise ("Frighteningly real… riveting" – New York Times Book Review, Editor's Choice) and has been nominated by readers to the YALSA Teens Top Ten in 2013 and 2014. Before her life as an author, Emmy performed original comedy on Comedy Central, MTV and VH1; and acted in the movies "Superstar," "The In-Laws" and "Nancy Drew," among others. Her new book, Sweet, will come out in June, 2015.
David Levithan is an award-winning YA author and a children's book editor for Scholastic. David published his first YA book, Boy Meets Boy, in 2003. The first book he wrote with Rachel Cohn, Nick and Norah's Infinite Playlist,was adapted to the screen in 2008. Another notable collaboration is the book Will Grayson, Will Grayson which David wrote with John Green. David is also the organizer of the NYC Teen Author Festival and the founding editor of PUSH, a Young Adult imprint of Scholastic Press. His most recent novel is Hold Me Closer: The Tiny Cooper Story.
R.L. Stine says he has a great job: "My job is to give kids the CREEPS!" Stine's books are read all over the world. So far, he has sold over 350 million books, making him one of the best-selling children's authors in history. He continues to write Goosebumps and last year revived his Fear Street series. This fall, a Goosebumps movie will be released, starring Jack Black as R.L. No one in his family ever called him R.L. Everyone calls him Bob.
Sunday Mar. 15, 7pm
General Admission 
$10 in advance
$15 at door
Students/Seniors
$7
Estimated Runtime
75 mins
share £