Dixon Place & Einstein Literary Management Present:

Spine Out

Featuring David Arnold, Jessica Brody, VC Chickering, David Levithan, Scott Westerfeld and host Emmy Laybourne!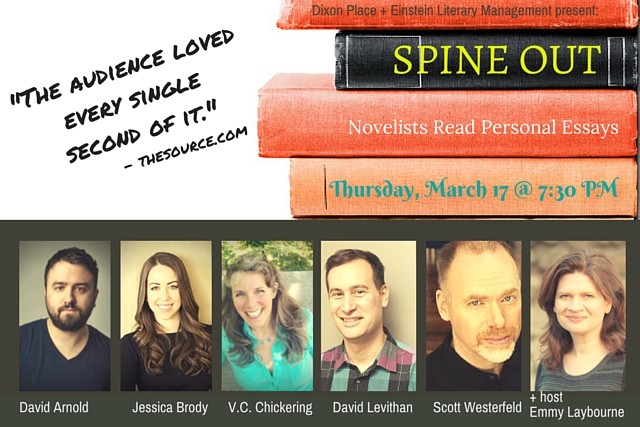 About This Show
This performance of the critically acclaimed literary event SPINE OUT will be an official part of the NY Teen Author Festival. Join host Emmy Laybourne, as she welcomes novelists to reveal stories from their lives, including NYT best-selling novelists David Levithan & Scott Westerfeld, along with David Arnold, Jessica Brody, & VC Chickering.
About the Artist
David Arnold writes stories and songs and lives in Kentucky with his (lovely) wife and (boisterous) son. His debut novel Mosquitoland is out now from Viking/Penguin, and his second book Kids of Appetite will be released September 20, 2016. He likes pesto, Arcade Fire, indie bookstores, Middle-earth, GARP, Elliott Smith, Christmastime, and all things Sorkin. He doesn't like olives, liars, or wet socks.
Jessica Brody has written twelve novels for teens, tweens, and adults including 52 Reasons to Hate My Father, The Karma Club, My Life Undecided, and the three books in the Unremembered trilogy, the first of which is currently in development as a major motion picture. In 2016, she will release two new contemporary novels, A Week of Mondays (August) and Boys of Summer (April), and in 2017, her debut middle grade novel entitled, Addie Bell's Shortcut to Growing Up, will hit bookstore shelves. She secretly wants to be a member of the Spice Girls.
V.C. Chickering is the author of Nookietown, recently released by St. Martin's Press on February 23rd. In addition to writing funny/racy books, she also writes and sings clever ditties. She is an excellent parallel parker and a lousy cook.
Emmy Laybourne is a novelist, screenwriter and former character actress. She is the author of the Monument 14 trilogy ("Frighteningly real… riveting" – NYT Book Review, Editor's Choice) and the novel Sweet ("A gripping action-adventure survival story" – VOYA, rated Perfect Ten). Before her life as an author, Emmy performed original comedy on Comedy Central, MTV and VH1; and acted in the movies Superstar, The In-Laws and Nancy Drew, among others. Emmy lives outside New York City with her husband, two kids and a flock of 6 nifty hens. One of them is named Batman.
David Levithan is the young adult author of Boy Meets Boy, Every Day, and Two Boys Kissing, among others. He has four books forthcoming from Knopf Books for Young Readers starting in 2016 with The Twelve Days of Lily and Nash co-written with Rachel Cohn. He has also co-written novels with John Green and Andrea Cremer as well as edited and contributed to several anthologies. When he's not writing during spare hours on weekends, he is editorial director of Scholastic and the founding editor of the PUSH imprint. The only addiction he's ever had was a brief spiral into the arms of Diet Dr. Pepper, unless you count My So-Called Life episodes as a drug.
Scott Westerfeld is the author of 18 novels, five for adults and thirteen for young adults. He is best known for his four sets of young adult books, including the Uglies series, Midnighters, "The New York Trilogy," and the Leviathan series. Zeroes, the first in a new series co-written with Margo Lanagan and Deborah Biancotti, was released in September 2015. He was born in Texas, splits his time between New York City and Sydney, Australia, and has more frequent flyer miles than you do.
Thursday, Mar. 17 at 7:30pm
General Admission
$15 in advance
$20 at the door
Students/Seniors
$12
Estimated Runtime
75 minutes
share £
Credits
Photo Credit
Emmy Laybourne
Links