WORLD PREMIERE

Speed Queen

Written & Performed by Phoebe Legere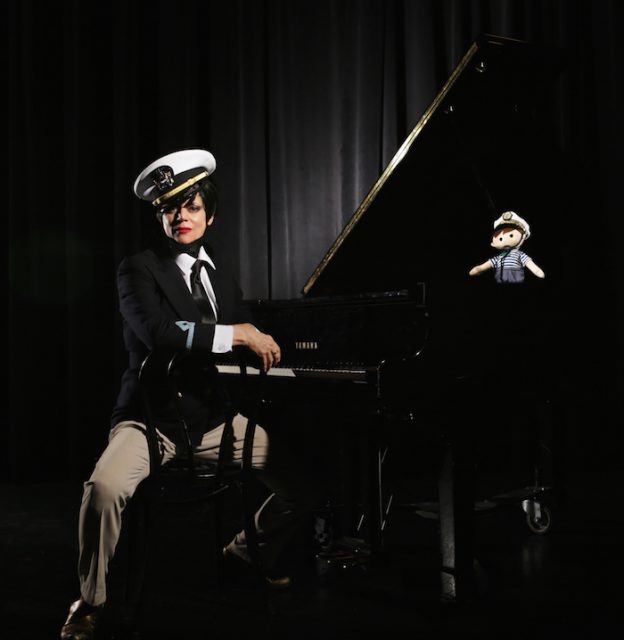 About This Show
Hollywood glamour meets queer performance art in this tour-de-force portrayal of Gay Pride pioneer 'Joe' Carstairs, the 1926 World Speedboat record holder. Legere plays cross-dresser Joe Carstairs and seven of her girlfriends including: Tallulah Bankhead, Marlene Dietrich, Billie Holiday and Mabel Mercer. Speed Queen, a trans-disciplinary play, uses wearable sculpture, dance, theater and nude lesbian films to tell a story of heartbreak, heroism, and love.
This Dixon Place production is made possible, in part, with public funds from NY State Council on the Arts w/the support of Gov Andrew Cuomo & the NY State Legislature.
about the artists
Phoebe Legere is a composer, artist, filmmaker, arranger, songwriter, singer and performer on piano, accordion, guitar, cello, Native American flute, and synthesizer. She works across genres and art forms.
She combines science and classical music, painting and poetry, sculpture and engineering, acting and art. Legere is an NYU and Juilliard trained film score composer who creates her own videos, including The Shamancycle Story. Her new video, OK Cupid, is a selfie, using traditional Acadian music to critique computer culture.
The New York Times raved: "Legere plays the piano with enormous authority in a style that encompasses Chopin, blues, ragtime, bebop and beyond, and she brings to her vocal delivery a four octave range, and an extraordinary palette of tonal color and meticulous phrasing."
Glenn O'Brien, Interview Magazine called her "a genius." Phoebe Legere is a trans disciplinary artist and composer who works in the space between art, music, ecology, performance and engineering. The singer-songwriter plays seven instruments including one she invented herself (to help physically challenged children play music). Biography By: Susan Rakowski
Lissa Moira (Director) (AEA, SAG/AFTRA) is an award-winning playwright, screenwriter, director, and actor.  Career highlights include: Acting as Eva in Lanford Wilson's Rimers of Eldritch, Ismene in Oedipus alongside James Earl Jones and Jacqueline Brookes, the film Growing Down in Brooklyn starring Tina Louise and Vinnie Pastore, and the film Dead Canaries starring Charles Durning, Dan Lauria, Dee Wallace Stone, and Joel Higgins. Lissa acted in and directed her musical revue, co-written with Richard West, The Best Sex of the XX Century Sale, which originated at Theater for a New City and played everywhere from the Duplex to the Triad. Also with Richard West, her noir/dada musical comedy Who Murdered Love?, originated at TNC and went on to FringeNYC. Recently, Lissa directed an epic musical version of Charles Dickens' Nicholas Nickleby, adapted by Robert Sickinger with music by Alaric Jans. Lissa co-wrote and directed Siren's Heart: Marilyn in Purgatory, which originated at TNC and went on to a fourteen month run Off-Broadway starring Louisa Bradshaw. Last year, Lissa directed Giovanni the Fearless, a commedia musical by Mira J. Spektor as well as Mira's Lady of the Castle, which moved from TNC to Opera America and a sold-out run at the Victor Borge Theater at Scandinavia House. Lissa's most recent writing/directing project was the hilarious paean and send-up of the Golden Age of the Musical, Grand Theft Musical, inspired by Robert Sickinger's Platinum Taps with music by John Taylor Thomas. Lissa is over the moon at the prospect of teaming up with the phenomenon known as Phoebe Legere. Her talent is truly limitless.
March 7 (preview), 9, 15, 16, 17, 23 & 24, 2018 at 7:30pm
$15 for March 7 preview
General Admission
$19 in advance
$22 at the door
Stu./Sen./idNYC
$15
share £
Credits
Phoebe Legere (Joe Carstairs, Dolly Wilde, Natalie Barney, Tallulah Bankhead, Marlene Dietrich, Art Direction, Sound Design, Producer, Arranger, Composer)
David Zen Mansley (Army Captain, First Mate, Race Announcer, Commentator, Waiters, Beaver, Death)
Lissa Morra (Direction, Lighting)
Selear Duke (Stage Manager, Prop Mistress, Understudy)
Litza Colon (Boat Design)
Janet Clancy (Rigging)
Shawn Rawls (Choreography)
Sean Harkness (Guitar)
Skip Ward (Bass)
Rob Mitzner (Drums)
PHOTO
Peter Yesley