SCUM
Nathalie Ellis-Einhorn & Ryan Gedrich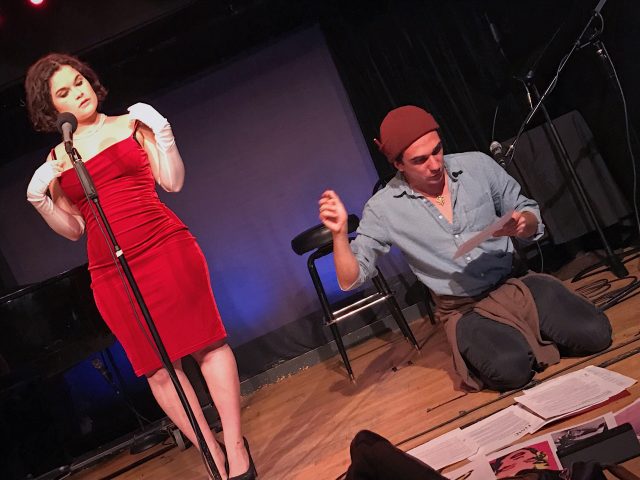 About This Show
This mash-up of performance styles (from worlds as disparate as cabaret, vaudeville, burlesque and haunted houses) centers around two female figures: Valerie Solanas and Carolyn Sapp. Valerie shot Andy Warhol and wrote the SCUM Manifesto, which calls for the extermination of all men. Carolyn was Miss America in 1992 and is now a mom/stuntwoman in Hawaii. They've both written rambling pieces of text that give their particular ideas on how to be a woman, and neither of them can quite get it right.
about the artists
Nathalie Ellis-Einhorn is a performer, theater maker and teacher from Hong Kong. She's performed her play based on interviews with clowns, I.M. LOST! – a show about clowns and how to be happy, in productions at Princeton University (dir. Ogemdi Ude), Dixon Place (dir. Kat Yen) and Theater for the New City's Dream Up Festival (dir. Benita de Wit). She also teaches workshops on clown training through partnerships with the Princeton University Office of Religious Life and the Youth Leadership Development Program of New Jersey. www.elliseinhorn.com
Ryan Gedrich is a performer, theater maker, producer, amateur anthropologist and professional English tutor from the Jersey Shore. He is currently in his second year as a Producing Fellow for Clubbed Thumb; other current projects include Milo Cramer's Cute Activist at the Bushwick Starr, Alex Borinskey's Weird Classrooms at University Settlement, and Evan Gedrich's Turning Inward at Princeton University's Lewis Center for the Arts.
Saturday, December 9, 2017 at 8:30pm
General Admission
$15 in advance
$18 at the door
Stu./Sen./idNYC
$12
Estimated Runtime
60 minutes
share £
Credits
Created by
Nathalie Ellis-Einhorn, Ryan Gedrich and the Ensemble
Ensemble
Nathalie Ellis-Einhorn, Ryan Gedrich, Maeve Brady, Glenna Yu, Jesse Rose Krebs
Composer
Sam Kaseta
Photo credit
Katie Welsh