Dixon Place hosts

S.C.U.M.: The Valerie Solanas Story

THREE ROOMS PRESS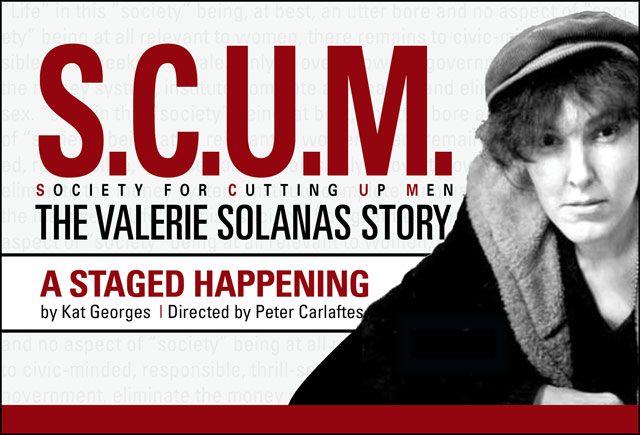 About This Show
On June 3, 1968, famed pop artist Andy Warhol was shot and seriously injured by poet and radical feminist Valerie Solanas, author of the infamous S.C.U.M. Manifesto. Solanas ideas are front and center in "S.C.U.M.: The Valerie Solanas Story," a play by Kat Georges, directed by Peter Carlaftes.
The play explores Solanas' radical views through the lens of a Factory "happening" featuring a cast of "Superstars," art critics, and outsiders. Furiously-paced and punctuated with slicing humor, whip dances, and anarchist ideals, "S.C.U.M." cuts through façades to capture the spirit and value of artistic imagination.
A Three Rooms Press production, "S.C.U.M.: The Valerie Solanas Story," is the opening play in Georges' THREE SOMEBODIES: Plays About Notorious Dissidents, a trio of fascinating, cutting edge plays inspired by people who shook up the world—for better or worse. In addition to "S.C.U.M," the collection includes "Art Was Here," inspired by poet-pugilist and Dada precursor Arthur Cravan, and "Jack the Rapper," a mash-up of Jack the Ripper and T. S. Eliot. Copies of the book will be available at the reading for purchase and signing.
Sunday, March 25, 2018 at 7pm
VIP (Premium seating & an autographed copy of THREE SOMEBODIES)
$20
General Admission
$12
Estimated Runtime
90 minutes
share £
Credits
Directed by
Peter Carlaftes
Written by
Kat Georges
Cast
Leah Bachar (as Valerie Solanas/Lois Kagan Mingus), Jane LeCroy, Jerry Goralnick, Peter Collier
Links