Red, White, Blue, and Blood; Return to the One She Love
David Mramor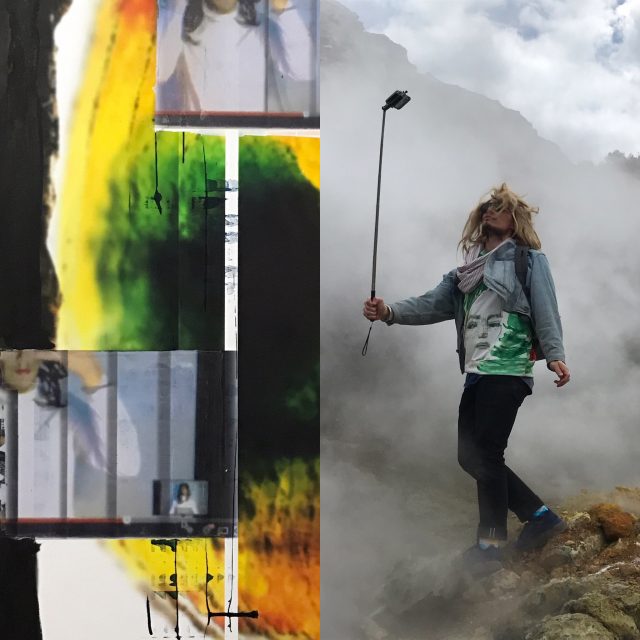 About This Show
Visual and performance artist David Mramor recently revisited Yellowstone National Park.  A place that he worked ten years ago, the same year that he came out of the closet.  Using visuals that he filmed while driving to the park and documenting improv performances along his road trip, Mramor will combine these videos with songs that he has written with pianist and collaborator Greg Potter.  The two are currently working on recording an album of the songs entitled Beyond Reality which will be released later this year.  From Laramie, WY where Matthew Shepard was murdered to Morning Glory thermal Pool, to the great Rocky Mountains Mramor will attempt to reconnect to Nature and the USA within this political landscape.
about the artists
David Mramor's art practice is rooted in painting and theater. He uses stills from videos to create paintings that become props, embodying theatrical settings for the performances. Collaborating with Greg Potter on the keyboard, Mramor writes original songs under the guise of Enid Ellen, a post-gender feminist singer-songwriter.  The performance will utilize singing, movement, improv and Mramor's training in Kundalini yoga.  
Greg Potter is a New York City based singer/songwriter who composes original piano-based songs.
Saturday, July 29 at 10pm
General Admission
$15 in advance
$18 at the door
Stu./Sen./idNYC
$12
Estimated Runtime
60 minutues
share £
Credits
Featuring/Collaborators
Greg Potter
Photo credit:
Enid Ellen
Links