In the lounge

PROPHETIC VISIONS: EXPLORATIONS OF LIFE'S JOURNEY

Curated by Afua Kafi-Akua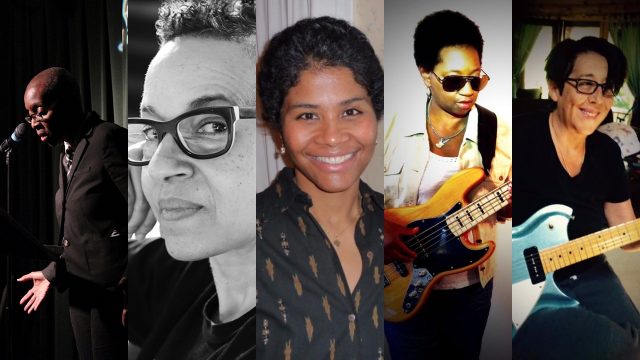 About This Show
Using various literary and visual art forms, five accomplished artist/activist/educators will share artwork, music, memoirs and poetry chronicling experiences that have impacted their lives and propelled them to grow into their current selves.
about the artists
Afua Kafi-Akua has worked for over two decades at many cutting edge media and arts organizations including Women Make Movies, The Cinema Guild, The Metropolitan Museum of Art and Third World Newsreel. A media professor and scholar, she has been a poet, writer, musician and media artist for over 20 years, and currently serves as academic program manager at the International Center of Photography. Afua began her career in New York as a percussionist and founding member of the all-female funk/rock band IBIS. Her poetry and writing have been published in national publications including the Spelman College Journal of Women's Studies, SAGE, and she co-produced an award winning documentary about violence against lesbians entitled JUST BECAUSE OF WHO WE ARE which aired on PBS. She is currently creating mixed media gallery installations of photographs, video, music and spoken word about various socially relevant and personal topics including being the grandchild of immigrants, Muses and our political future. Her artwork has been exhibited on both coasts.
Kathy Rey (AKA K.Rey) is a songwriter, musician, and visual artist from Brooklyn, NY. She cofounded the band "The Bloods" which was one of the first all female bands that were openly gay. K.Rey was also the lead guitarist in the band Transisters along with iconic Trans performer and AIDS activist Chloe Dzubilo. She is also a visual artist. Her work is strongly inspired by her Mexican culture and being Queer. She mainly works with acrylic paints, watercolors & acrylic/oil markers and paints on wood and canvas. Web site: kreysam.com
Native New Yorker Brenda Alderman, a.k.a. B-Love, is a vocalist, bassist, songwriter, arranger/producer and digital audio engineer. She has worked as a studio session vocalist and bassist in some of New York's most famous recording studios. Brenda has toured locally as well as internationally with a variety of well-known performers. She performs in all genres including rock, pop, R&B and hip-hop. Watch for Brenda's soon-to- be released EP currently titled "Time" which includes all original music of various genres. Hit her up on Facebook www.facebook.com/breluvsbass, Twitter @brealderman, and Instagram @breluvsbass.
Lola Flash uses photography to challenge stereotypes and offer new ways of seeing that transcend and interrogate gender, sexual, and racial norms. She received her bachelor's degree from Maryland Institute and her Masters from London College of Printing, in the UK. Flash works primarily in portraiture with a 4×5 film camera, engaging those who are often deemed invisible. In 2008, she was a resident at Lightwork, and in 2011 Flash was awarded an Art Matters grant, which allowed her to further two projects, in Brazil and London. Most recently, she was Artist-in- Residence at Alice Yard in Trinidad. Flash has work included in important public collections such as the Victoria and Albert Museum in London. Her work is also featured in the publication Posing Beauty, edited by Deb Willis, currently on exhibit across the US. Flash's work welcomes audiences who are willing to not only look but see. www.lolaflash.com
Tara Linh Leaman is an African Vietnamese American transracial adoptee, and knows well the challenges and joys of transforming adversity to resilience. She currently serves as Program Director of Westchester Building Futures, a multiyear federally-funded Westchester County Department of Social Services initiative that serves youth and young adults currently in foster care and/or alumni of care. She is also the Co-Founder of AmerAsians Building Bridges consulting, which provides training and resources that enrich the lives of members of the adoption and foster care constellations. Her writings and presentations include The Power of Ambiguity, published in the Black Anthology: A Diverse Exploration of the Black Adoptee Journey, and a keynote given at the National Press Club in Washington, DC entitled "Adoption in the Media: Why Context Matters." She has worked internationally and nationally advancing social justice, including service as deputy director of the Donaldson Adoption Institute, a teacher in Johannesburg, South Africa, and a law clerk to the Honorable Judith Bartnoff of the District of Columbia Superior Court. Tara serves on the board of Holt International Children's Services and Family Equality Council's National Board of Advisers, and is a graduate of Cornell University and Georgetown Law. She lives in the People's Republic of BrookLinh.
Saturday, July 22 at 7:30pm
Estimated Runtime
50 minutes
share £
Credits
Mixed Media Artist and Educator
Afua Kafi-Akua
Photographer and Educator
Lola Flash
Musician, Composer and Visual Artist
Kathy Rey
Musician, Composer and Producer
Brenda Alderman
Writer and Youth Worker
Tara Linh Leaman
Photo credit:
Lola Flash (for Afua), Timothy Bellavia (for Lola)