(Projection)
Emma Kimball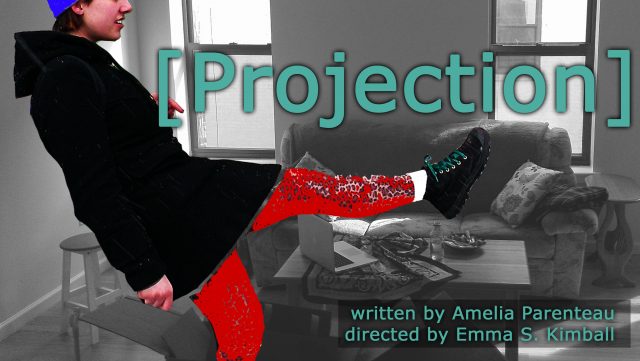 About This Show
(Projection) peels back the layers of a New York millennial apartment, subverting and reinforcing the classic living room play to reveal the universal truths of defining yourself in your 20's. While the motley crew of roommates descends deeper into the stupor of an average evening, they hotly debate, pontificate, test relationship dynamics, and welcome a stranger into their midst. The audience has the unique advantage of seeing these twenty-somethings in their natural environment, guided by a questionably reliable narrator. Part comedy of manners, part coming of age, this theatrical romp offers a story for all ages.
Cast: Maddie Fischer, Malcolm Opoku, Tony Curtis, Marielle Young, and Thomas Vieljeux
about the artists
Emma S. Kimball is a Brooklyn-based dancetheater artist originally from Colorado. She currently works with The Plaboratory and Theater Reconstruction Ensemble and previously worked with Built for Collapse, at The O'Neill, and in the 2015 Core Company. Select original works: Peaches (Stained Glass Experience, etc.), Bulls (Outlet Dance Project) and collaborations with spoken word poet Noah Kaplan and storyteller Tim Manley. Additional directing/choreography: The Evil Dead: The Musical (University Theater), Orestes 2.0 by Chuck Mee (Studio Theater) and a site-specific Thom Pain (based on nothing) by Will Eno (SSBKLYN). Sometimes she performs, sound designs and/or makes films.
Amelia Parenteau is a playwright, journalist, and translator currently working at the French Institute Alliance Française. An alumna of Sarah Lawrence College, she has worked with TCG, Ping Chong & Company, The Lark and The Civilians in New York, and the Eugene O'Neill Theater Center in Connecticut. Productions: Liminal (2015, New York International Fringe Festival), America is Hard to See, Life Jacket Theatre Company (2016, IRT Theater). She is a member of the FENCE International Translation Network, and she has been published online in Asymptote Literary Magazine, Culturebot, Howlround, and Extended Play and in print in American Theatre Magazine.
Tuesday, April 11 at 7:30pm
General Admission
$15 in advance
$18 at the door
Stu./Sen./idNYC
$12
Estimated Runtime
90 minutes
share £
Credits
Directed by
Emma S. Kimball
Written by
Amelia Parenteau
Stage Management
Raquel Loving
Projection Design
John Erickson
Sound Design
Valentine Monfeuga
Scenic Design
Andrew Dobbie
Costume Design
Susanne Houstle
Lighting Design
Cody Richardson
Photo credit:
Amelia Parenteau
Links