in the lounge

Private Investigator and the Cosmic Heavenation (aka I.C.U.P.)

Created and performed by Private Investigator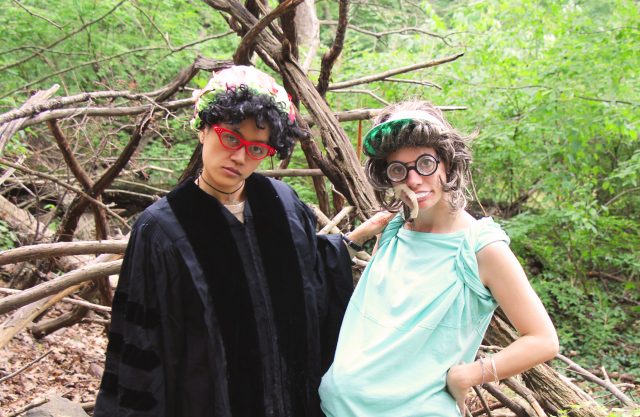 About This Show
In Private Investigator and the Cosmic Heavenation (aka I.C.U.P.), Peevius and Poonhead return to dispense some seriously excellent horridités. Insults will run around screaming, the plague will try to court you, and your local cat pastor might just be a scam. But dear, fear not, we will try to save your soul with hot rubbish operettas, saucy line-dances, and definitely-not-bogus history. You will be fed love, comradery, and other terrible nourishment in another evening of play and crisis. Bring your joy (or Roy, but not Ted); leave your best manners at home.
about the artists
Leonie Bell is a German-American theater-maker and performer based in Berlin/New York holding a BA from Bard College and an MFA in Theatre from Sarah Lawrence College. Most recently, she performed with Stew at the Met Breuer and BAM, sound-designed and performed with Sarah Scholl at Dixon Place's Puppet BloK, presented her one-act play SchmidtSmithSchmidt at La Mama Experimental Theatre, and premiered Liebe Loretta, her new solo show, at Sarah Lawrence College. Up next, she will act in Claire Moodey's femme pathos at the Exponential Festival in January 2018.
Maria Camia (MARICAMA) is from Virginia Beach, VA and received a MFA in Theatre at Sarah Lawrence College '17 and a BFA in Sculpture + Extended Media at Virginia Commonwealth University '13. Maria created and performed The Healing Shipment Prologue at Dixon Place's Puppet BloK. She also created and performed her first solo show, Transmutation Staytion (2017) and directed, designed, and wrote ARICAMA: A Galactic Landing at Sarah Lawrence College. She set designed For Me For You, directed by Ernest Abuba.
Saturday, December 2, 2017 at 7:30pm
Estimated Runtime
40 minutes
share £
Credits
Performers:
Leonie Bell, Maria Camia
Photo credit:
Andrew Murdock
Links