Dixon Place hosts

Pentacle Presents: Fall Further VI

Featuring works from CoreDance Contemporary, danceTactics performance group, Hanna Q Dance Company, SYREN Modern Dance & The Moving Architects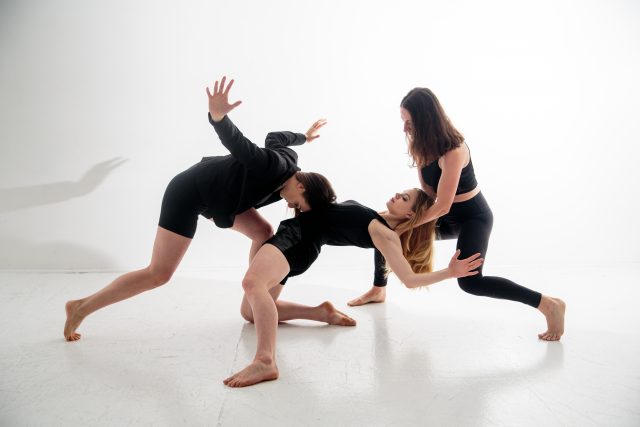 About This Show
Now in its sixth year, Fall Further is a celebrated performance event, showcasing the works of Pentacle's Gallery artists. The Gallery Artists are an eclectic group of vibrant and talented dance makers. From solo performance to multi-disciplinary and traditional modern dance companies, The Gallery encompasses a diverse range of engaging dance artists. This year Fall Further VI will feature works from CoreDance Contemporary, danceTactics performance group, Hanna Q Dance Company, The Moving Architects and SYREN Modern Dance.
about the gallery
The Gallery is a unique infrastructure support program that offers artists services and opportunities to improve business and creative practices. Artists choose from a range of services to suit individual needs and goals. This long-standing program offers opportunities for both emerging and established artists. Participants to select specific services based on unique needs, empowering them to achieve and excel.
The Gallery Contact: thegallery@pentacle.org
The Gallery Webpage: http://www.pentacle.org/administrative-services/the-gallery-more-info/
about CoreDance Contemporary
CoreDance Contemporary is an Australian modern dance company residing in New York City. Founded by Artistic Director Rebecca McCormac in 2011, the company is comprised of six dance artists who bring different cultural and dance backgrounds to the fore, to form a hardworking and dedicated ensemble. CoreDances objective is to investigate choreographically, different and oft times contradictory movement vocabulary through the physicality of one's kinetics and to explore the realization of this physicality as it takes form in the space.
Performance Title: Surface & Skin
Choreographer: Rebecca McCormac
Website Link: http://coredancecontemp.wixsite.com/dance-company
about danceTactics performance group
Under the direction of Artistic Director Keith A. Thompson, danceTactics performance group directs its interest towards dance's capacity to communicate on its own, undressed. The company thrives on seeking out challenges of discovery that occur within the moment, compositionally and conceptually. Choreographic complexity, and the articulation of multiple pathways through and between spaces, are a main focus. In collaboration with his dancers, Thompson intensely values researching the fusion of theater and contemporary dance. With a passionate investigation of dance and physical theater, danceTactics aims to create connections between abstraction and narrative with each new work.
Performance Title: Undeniable Traits
Choreographer: Keith Thompson
Website Link: http://www.dancetactics.org/
about Hanna Q Dance Company
Energetic, Passionate and Imaginative!Founded in 2013, Hanna Q Dance Company has been performing original works. The Swedish born and raised Artistic Director and Choreographer, Johanna LjungQvist-Brinson, draws inspiration from the forces of nature and uses its elements to create dynamic narratives through movement. The choreography is comprised of technically rigorous movement, derived from Johanna's background in Dunham technique, as well as partnering at once intricately acrobatic and viscerally human. The dancers express bursts of passion and athleticism, sweeping the audience into a different world full of emotions.
Performance Title: Threat to Freedom and Democracy
Choreographer: Johanna LjungQvist-Brinson
Website Link: https://www.hannaqdancecompany.com/
about SYREN Modern Dance
SYREN Modern Dance is a New York based company founded in 2003 by Lynn Peterson and Kate St. Amand. Now in its 15th Season SYREN Dance is impassioned to seek and share knowledge through the art of dance. Highlights include sharing dance at Jacob's Pillow Dance Festival, Symphony Space, Dance Theater Workshop, Bach Vespers at Holy Trinity, Sacred Music at the Red Door, Bach Society Houston, Green Space, Cité Universitaire, The Riverside Theatre, Queens Theatre in the Park, Dancers Responding to AIDS, The Warner Theatre, New Haven Ballet, and The Ethel Walker School.  
Performance Title: Red Blue and Bitter Sweet
Choreographer: Kate St. Amand
Website Link: http://www.syrendance.org/
About the moving architects
The Moving Architects (TMA), under Artistic Director Erin Carlisle Norton, is a female-centric dance company that has performed and taught extensively since its formation in 2007 in academic and community settings throughout the NYC-area, East Coast, Midwest, Central Asia, Guatemala, and Morocco.  Recent performances include Bryant Park presents Contemporary Dance, The Tank, Jersey City Theatre Center, Boston's The Dance Complex, Wilson College Creative Residency, Montclair Art Museum, and upcoming Nov 30-Dec 2 at Triskelion Arts. TMA produces the dance interview podcast "Movers & Shapers: A Dance Podcast".
Performance Title: Canon
Choreographer: Erin Carlisle Norton
Website Link: www.themovingarchitects.org
Sunday, October 22, 2017 at 7pm
General Admission
$15 in advance
$18 at the door
Stu./Sen.
$12
Estimated Runtime
120 minutes
share £
Credits
Photo credit:
CoreDance Contemporary "Surface & Skin" – Eric Bandiero
Links