Moving Men
Featuring Leah Tubbs, Randy Burd, Alexandre Balmain & Jonathan Breton, Wolf. Curated by Doug Post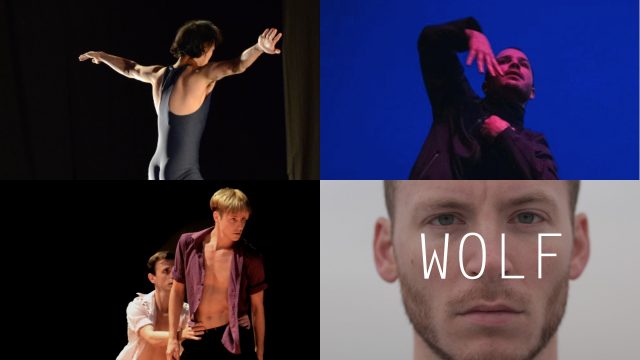 About This Show
A series of new choreography that features all male dancers. Curated by Doug Post.
about the artists
Leah Tubbs, a Birmingham Alabama native, studied dance at Alabama School of Fine Arts (ASFA) and the University of Alabama, Tuscaloosa. She has performed with various dance companies in Alabama, Ohio, California, Texas, and New York. ModArts Dance Collective (MADC), established in 2011 by Leah and Shaun Tubbs, uses movement as a vehicle to connect, inspire, and ignite a spark of hope within multitudes of people from various walks of life. The mission of MADC is to celebrate and provide a platform for women artists of color to share their creative voices through performance opportunities and community collaboration. www.modartsdance.com
Randy Burd is a graduate of New World School of the Arts where he received a Bachelors of Fine Arts in dance performance while under the direction of Daniel Lewis. Mr. Burd has performed with 277 Dance Project, Alex Springer & Xan Burley, Korhan Basaran, Alan Danielson, Jeff Davis, Mark Dendy, Marcos Duran Performance Group, Glitter Kitty Productions, Liz Glynn, Elise Knudson, Amy Miller, and Sokolow Theatre Dance Ensemble. He co-produced alongside Matthew Brookshire, The Schermerhorn's Dance Artist Showcase in part with support from The Actors Fund for Everyone. Randy is also a gymnastics teacher and DJ.
Alexandre Balmain and Jonathan Breton are originally from France where they graduated from the Superior Institute of Performing Arts of Paris. Later on they respectively graduated from the Martha Graham School and the Alvin Ailey School, in New York. Mr Balmain is currently a member of Jennifer Muller/The Works and performed in the movie "Urge" along with Pierce Brosnan. Mr Breton is dancing for several companies in the city, extensively choreographing, and is an official member of the International Dance Council at Unesco. They choreographed Black Sand for AZOTH Dance Theatre, a New York based dance company touring internationally. www.azothdancetheatre.wix.com/azoth
Born Daniel Holt. Learned dance. Formed Dirt. Became The Grouch. Traveled the world. Quit. Reappeared. Wolf.
Tuesday, June 6 at 7:30pm
General Admission
$15 in advance
$18 at the door
Stu./Sen./idNYC
$12
Estimated Runtime
80 minutes
share £
Credits
Photo credit:
Kiya Marie (for Leah)
Justin Reid (for Randy)
Roberta Kirn (for Alexandre and Jonathan)