Mixing Marx With Madness
Janelle Lawrence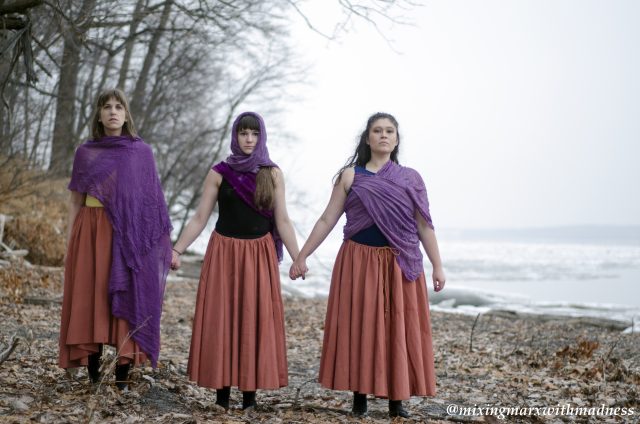 About This Show
Mixing Marx With Madness is a new musical where multi-cultural mythology stories interact with modern day law. Three female lawyers pick up a case of Gods vs Goddesses tearing through a small town in Idaho. The lawyers use well-known philosophers such as Karl Marx, Immanuel Kant, and Hannah Arendt to plead the case and attempt to change the minds of a town that is stuck in its ways.
about the artists
Janelle Lawrence (Book, Music, and Lyrics) received her BFA in Musical Theatre from Manhattanville College. In her performance career she has appeared in Vieux Carre with direction and appearances by Austin Pendleton, It Will All Work Out by Chris Wells songs by Jeremy Bass, Priscilla Queen of the Desert with Piper Theatre Productions and more. As a writer, composer, and lyricist Janelle has had her musicals Subliminal, 'Tis the Season, and Group Therapy at various theaters in the NY area. Janelle is the artistic director of Broad Views on Broadway, a non-profit theatre company she runs that is dedicated to providing equal opportunity and representation of new theatre pieces. She is currently in residency with the 92Y Musical Theatre Development Lab: Collective as well as the Roundtable representative of the Musical Theatre Factory.
Ariel Leigh (Director) is beyond excited to work with the fine goddesses/gods of Mixing Marx with Madness! Recent credits include directing Two Gentlemen of Verona (A Swashbuckling Comedy!) with the C.A.G.E Theater Company, White Rabbit Tales: Tales for Adults for the Spotlight On Festival, co-creating Dave's Friends Sketch Group at the PIT and The Tank, & co-creating Doing The Thing for the Boulder Fringe Festival. Ariel also sings at cabaret venues including Don't Tell Mama, Elektra Theater, and Daryl Roth Theater. Thanks to the cast, crew, family, and friends!
Friday, May 4, 2018 at 7:30pm
General Admission
$15 in advance
$18 at the door
Stu./Sen./idNYC
$12 in advance
$15 at the door
Estimated Runtime
110 minutes
share £
Credits
Book, Music, Lyrics by
Janelle Lawrence
Directed by
Ariel Leigh
Music directed & Accompanied by
Dominic Frigo
Choreographed by
Janelle Lawrence
Co – Arranged by
Kerryn Prieto & Janelle Lawrence
Produced by
Janelle Lawrence
Associate Produced by
Carmen Quiñones
Lighting Designer
Charlotte McPherson
Photo credit:
Vix Walker
Links