Magic?
Yaakov Bressler & Christopher Erlendson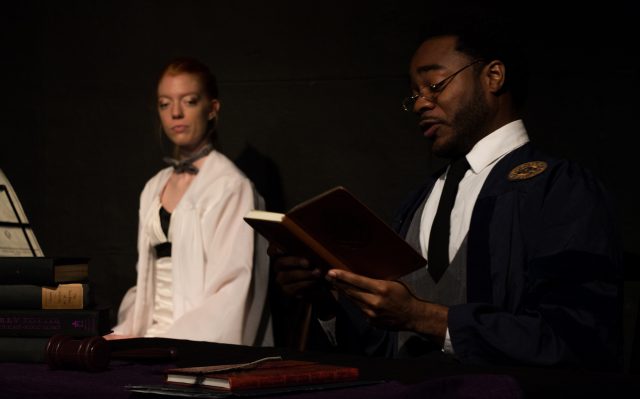 About This Show
Strange reports of magicians losing their powers make their way to the royal magistrate.  When two tricksters arrive with their fake magic show, the royal magistrate believes they have found the root of the problem.  Facing arrest, the two escape to a mystical forest where they discover the true cause of why magic is disappearing. Having to choose between risking the wrath of the royal court or taking their discovery to their graves, the tricksters must decide whether saving a kingdom is more important than saving themselves.
about the artists
Yaakov Bressler is a playwright and former medical researcher at Columbia University Medical Center whose plays have been produced in four international theatre festivals. He is a graduate of Brooklyn College where he founded its creative writing magazine, Stuck in the Library.  His works include MAGNIFICENT SCIENTIFIC, a play about ambition in the world of medical research, JUNG & CRAZY, a dark comedy about anxiety, and THE GOLDEN SMILE which has been raved as "A Kooky Comedy" by Broadway World. MAGIC? In collaboration with Christopher Erlendson is his latest work.
Christopher Erlendson is an NYC theater director and actor. During his time at Pitzer College and Columbia Engineering he studied theater, dance, physics, and computer science. In October of 2016 he directed a staged adaptation of War Of The Worlds by Howard Koch. Most recently he directed A Kreutzer Sonata by Larry Rinkel, a play about a Jewish piano prodigy who navigates the worlds of religion, music, and love in his freshman year of college. He is also a participating director in the Leela Play-In-A-Day events and an active performing artist in the Casa de Beverly play reading series.
Wednesday, April 19 at 7:30pm
General Admission
$15 in advance
$18 at the door
Stu./Sen./idNYC
$12
Estimated Runtime
70 minutes
share £
Credits
Directed by
Christopher Erlendson
Score by
Kelly Catlin
Photo credit:
Alex Antigua
Links