Little Theatre
Curated by William Burke, Frank Boudreaux, Katie Rose McLaughlin, Normandy Sherwood, Shannon Sindelar and Jeffrey M. Jones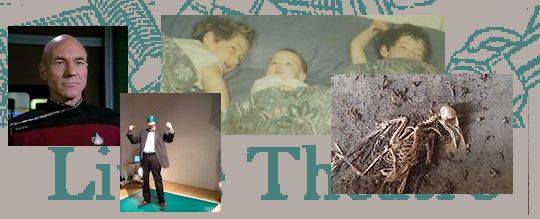 About This Show
The OBIE Award-Winning Little Theatre—a more-or-less monthly presentation of new theatre, dance, performance & media, more-or-less curated by Frank Boudreaux, Normandy Raven Sherwood, James Sprang, Katie Rose McLaughlin, James Allister Sprang & Jeffrey M. Jones—continues its seventeenth season.
The April iteration will feature work by RN Healey & Liza Birkenmeier, Ariel Jackson, Rachel Libeskind and Lester St. Louis.
Oceantalk! Episode 3: Double Mystery Fun Grab Bag!

: written by RN Healey & Liza Birkenmeier, performed by Laurie Grimes & Beth Shenandoah
Every week, high school English teachers Laurie Grimes and Beth Shenandoah discuss sea-themed topics with special guests!
Blues Exercise #1—Agriculture aka Modern Technology

: by Ariel Jackson
An exercise and meditation on "modern technology" in Senegal, Africa. In January Jackson spent approximately a month in Sinthian, a small village about 8 hours from Dakar, the capital of Senegal. While in Sinthian Jackson worked with women of the village in their garden, while researching the agricultural and technology relationship between Afro-Americans and West Africa in terms of agriculture.  
The Day the Father Died

: by Rachel Libeskind, with Danielle Aykroyd, Young Gun Lee
A short performance about the death of Stalin  
Solo cello
Thursday, April 13 at 7:30pm
General Admission
$15 in advance
$18 at the door
Stu./Sen./idNYC
$12
Estimated Runtime
80 minutes
share £