International Human Rights Art Festival

Modern Dance: J CHEN PROJECT Dance Commissions

JChen Project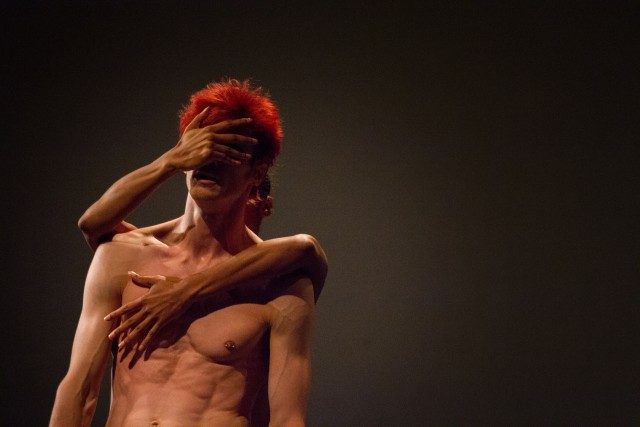 About This Show
An evening of new modern dance pieces commissioned by Jessica Chen of J CHEN PROJECT. Featuring work by:
Tom Tsai: In his dance works, Tom Tsai exhibits creative, athletic movement, considers themes of identity construction and authentic representation, and fosters audience connection and empathy through personal, poignant performance. Tom sources from his training in Breaking, Modern and Postmodern dance, his multicultural Taiwanese-American background, and incorporates text to reframe, question and investigate the subjectivity of perspective and meaning.
Karla Garcia (currently "swing" on Broadway's Hamilton) Being a Filipino-American, I am constantly inspired by the beauty of diversity in this country. Expressing this celebration and excitement through movement is what I hope to share through this piece! Karla Puno Garcia is currently a swing in the Broadway production Hamilton. She made her Broadway debut in Hot Feet, a dance musical directed by Maurice Hines, then went on to perform in the Broadway revivals of West Side Story, and Gigi; and the National Tours of Wicked and Addam's Family.
Heather Robles (Managing Director of The Bessies Awards)
Her piece is about women's rights. She has choreographed over 30 dances spanning various genres, while as a performer, Heather has worked with more than a dozen different companies around New York and the United States. Heather is currently the Associate Director of The New York Dance and Performance Awards, aka The Bessies.
Jessica Chen / J CHEN PROJECT will present two shorter pieces:
(1) "Digital Vortex" a multi-media piece about the overpowering influences of our media and how that shapes our identity
(2) "First Words" is a trio with two dancers representing shackles about how we can sometimes feel confined but there's always a choice.
The commissioner of the dance pieces, Jessica is the Founder and Artistic Director of J CHEN PROJECT. Chen recently made her Choreographic Debut in the commercial theater world for an Off-Broadway production at the Minetta Lane Theater, West Village. She had the honor of choreographing and directing a Featured Float in the 2016 and 2015 Macy's Thanksgiving Day Parade. Chen's choreography has been presented throughout NYC including NY Live Arts Studio Series, Brooklyn Museum of Art, HERE Arts Center, Dixon Place, Ailey Citigroup Theater, DUMBO Dance Festival and Ars Nova. International and National credits include 2010 World Expo USA Pavilion in Shanghai, China and the Amnesty International Arts Festival in Washington D.C.
About the Festival
Dixon Place and the Institute of Prophetic Activist Art present: The International Human Rights Art Festival, produced, March 3-5, 2017 at Dixon Place. This is the first human rights art festival in the long and vibrant history of New York City's cultural scene. The Festival is produced by Tom Block, long-time artist-activist, author of Prophetic Activist Art: Handbook for a Spiritual Revolution, and founder of the Institute of Prophetic Activist Art, an art-activist incubator housed at Dixon Place. Playwright and Director Julia Levine is the Assistant Producer.
The 2017 Festival will involve more than 70 artists presenting 40+ advocacy art events over the weekend, including theatre, visual art, music, dance, installations, workshops, panels, performance, films and KidsFest, to introduce children to the importance of art-advocacy work through hands-on activities. Join us for a weekend of art, advocacy, and celebration, with a happy hour featuring tasty human-rights themed concoctions, human rights trivia, prizes, t-shirts and much more.
video trailer
Saturday, March 4 at 10:00pm
Sunday, March 5 at 4:00pm
General Admission
$15 in advance
$20 at the door
SUNDAY performance included in Day Pass
Estimated Runtime
60 minutes
share £
Links