In a Moment
Tangle Movement Arts & Guests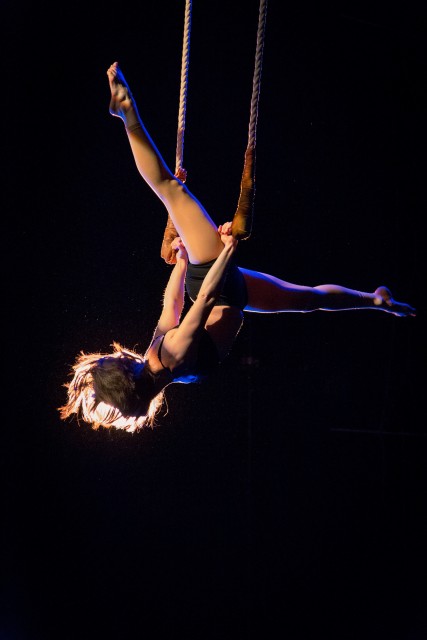 About This Show
In one heartbeat, everything around you can shift. Merging circus arts with theater, dance, and a queer sense of community, Tangle and guests present "In a Moment," a dynamic performance that pinpoints moments of desire, regret, and transformation. Trapeze, aerial silks, and rope create a complex landscape for high-energy, acrobatics and storytelling. "In a Moment" combines circus arts, dance, and theater to explore queer identity, female strength, and wide-ranging relationships between women.
About the Artists
Tangle Movement Arts is a Philadelphia-based circus arts company whose performance integrates traditional circus like aerial acrobatics with dance and theater. Tangle's work is devised collaboratively by the ensemble, with an emphasis on queer and female experience. Founded in 2011, Tangle has been a favorite of the Philadelphia FringeArts Festival. Philadelphia City Paper writes, "Tangle Movement Arts has a record of quality-yet-accessible shows–simultaneously lovely and exhilarating."
For "In a Moment," Tangle is joined by guest artists including Megan Gendell and Fe Fox, internationally performing circus artists who have recently performed in San Francisco, Philadelphia, New York, and Riga, Latvia.
Sara Nye performs with Tangle courtesy of RealLivePeople, a contemporary dance company based in Philadelphia. Her piece is an excerpt from a longer RLP production entitled "Would I lie to you?", which explores the lies we tell and the naked truths they conceal, from the casual to the profound.
Saturday, Aug. 1 at 7:30pm
General Admission
$12 in advance
$15 at the door
Students / Seniors
$10
Estimated Runtime
55 minutes
share £
Credits
Choreographed and performed by
Kate Aid, Tiffany Holder, Maura Kirk, Rebecca MoDavis, Sarah Nicolazzo, Meredith Rosenthal, Lauren Rile Smith, Pascale Smith, Lee Ane Thompson, and Deena Weisberg, with special guests Fe Fox, Megan Gendell, and Nina Giacobbe.
Photo Credit
Michael Ermillio