in the lounge

Hello, Daddy!

Sam Morrison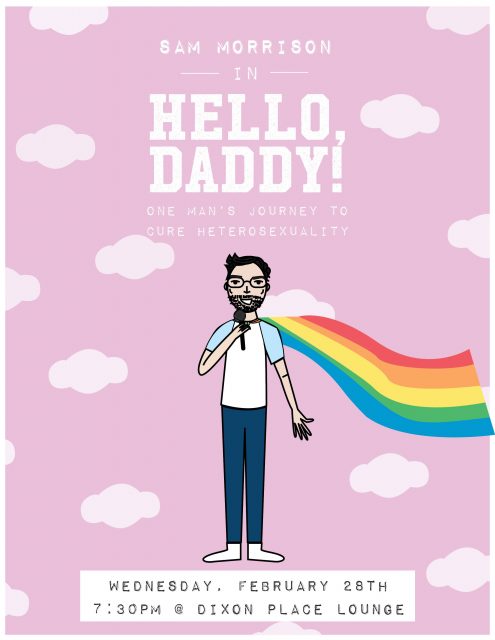 About This Show
Built off a decade of journal entries, Sam uses stand-up comedy, storytelling, and character and prop work to chronicle transformations of shame, love, and sex throughout his life. Falling in love with his Hebrew school teacher. Dating the prettiest woman in school. Trying to get into conversion camp. Sam's unique brand of gritty humor and touching narrative will take you on hilarious explorations of sexual embarrassments and climaxes.
Presented as a 'work-in-progress', we hope you come ready to laugh, support, and pitch in your thoughts during a post-performance discussion.
about the artist
Sam Morrison is a New York City-based comedian who has been featured on Comic Seen, Stellar Underground, and was recently named one of Mogul's NYC Comics to Watch in 2018. You've seen him on Laffin' Matterz TV and just about every gay bar in town. You can catch him regularly at Broadway Comedy Club, Old Man Hustle, and Catch a Rising Star. He's performed all over the world at the Ugandan National Theatre, Kampala International Festival, Fingerlakes Comedy Festival, and TrumpCon.
Sam's first one man show Sublime Faggotry debuted to sold out audiences in Ithaca, NY. He is an Alumnus of Cornell University and Production Assistant for the Travel Channel.
Kevin R. Free (Director) Curator of Queerly Festival; Former Artistic Director of Obie Award-Winning Fire This Time Festival. Most recently, he directed Lady Day at Emerson's Bar & Grill at Portland Stage. NYC Credits: Okello Kelo Sam's Forged in Fire; Renita L. Martin's Blue Fire in the Water (Fresh Fruit Festival); THE FIRST TIME; STANDING UP: Bathroom Talk and Other Stuff We Learn From Dad; Poor Posturing, all by Tracey Conyer Lee; Michelle T. Johnson's Wiccans in the 'Hood; Legislative Acts, a sketch comedy show performed by NYC legislators. Follow him on Twitter: @kevinrfree. www.mycarl.org. www.kevinrfree.com
Wednesday, February 28, 2018 at 7:30pm
$10 Suggested Donation at the Door
Estimated Runtime
55 minutes
share £
Credits
Written & performed by
Sam Morrison
Directed by
Kevin R. Free
Links