hallelujah
Federica Borlenghi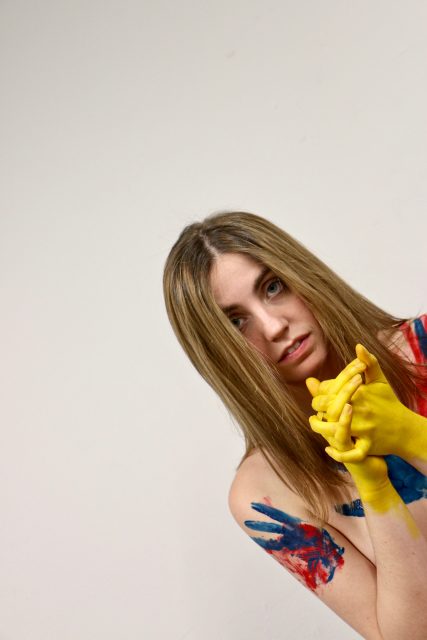 About This Show
A carefree and curious Delilah meets a tormented Sam, who intrigues her and drags her into a destructive relationship. Her best friend, Saul, prevents her from getting too intoxicated by Sam's lovesick adoration. Delilah starts sinking into a broken bitterness, until Dave, a penniless musician and lover of life, helps her find her own way to sing 'hallelujah' in the spirit of Leonard Cohen.
about the artists
Federica Borlenghi (playwright & director) is an Italian visual artist, writer, musician and theatre director based in Brooklyn. She has performed and studied acting abroad at the Litta Theatre of Milan and studied music composition at the Casa delle Note. She has a diploma in Multimedia (photography & digital filmmaking) from the Liceo Artistic Orsoline di Milano and collaborated with the Teatro La Scala to co-write and produce a modern adaptation of Mozart's Don Giovanni, which premiered at the Teatro Francoparenti at the LIVE! Action Festival. She is currently enrolled at the College of Performing Arts – The New School for Drama, where she is focusing her studies in playwriting and directing.
She collaborated with Naked Angels through the New School as an actress and director, where she directed the debut of in the sea, by Covi Brannan. Other favorite directing credits include God of Carnage by Yasmina Reza, The Nightmare Before Christmas (stage adaptation), The Invention of Monsters by C Dylan Basset and hallelujah's workshop production.
Covi Loveridge Brannan (lead actor and dramaturg) is an actress, playwright, and stage manager currently based in New York City. She has performed both nationally and abroad, most notably at Marin Shakespeare Company in San Rafael, CA and the Edinburgh Fringe Festival in Edinburgh, Scotland. She began playwriting in high school and has since collaborated with Naked Angels and The New School to produce the debut production of her play, in the sea, directed by Federica Borlenghi. Her stage management credits include Fragmented Frida (BAM), Penelope (Rogue Machine Theatre), and The Legend of King Arthur (York Theatre Royal). She is currently pursuing both a BFA in Dramatic Arts and an MA in Arts Management & Entrepreneurship at The New School College of Performing Arts. This month, her play Ghost Girl is being presented as part of the Los Angeles Collegiate Playwrights Festival, and an excerpt from her play-in-progress Force et Confiance will be included in the Shelf Life Project music and reading series at The New York Public Library for the Performing Arts. She originated the role of 'Delilah' in the workshop production of hallelujah in 2016 and is happy to be following the project.
Saturday, May 12, 2018 at 10pm
General Admission
$15 in advance
$18 at the door
Stu./Sen./idNYC
$12 in advance
$15 at the door
Estimated Runtime
75 minutes
share £
Credits
Playwright & Director
Federica Borlenghi
Composer
Calvin Rezen
Stage Manager / Assistant Director
Jessica Ashleigh Pomeroy
ASM
Allison Larned
Marketing & PR Coordintator
Lili Stiefel
Media Manager
Nadine Reumer
Delilah
Covi Loveridge Brannan
Sam
Jeff Kosharek
Saul
Sam Burris
Dave
Calvin Rezen
Photo credit:
colorandophotography
Links