In the lounge

Guerrilla Lit Reading Series

Featuring Nancy Hightower, Alex Gilvarry, and Jessie Chaffee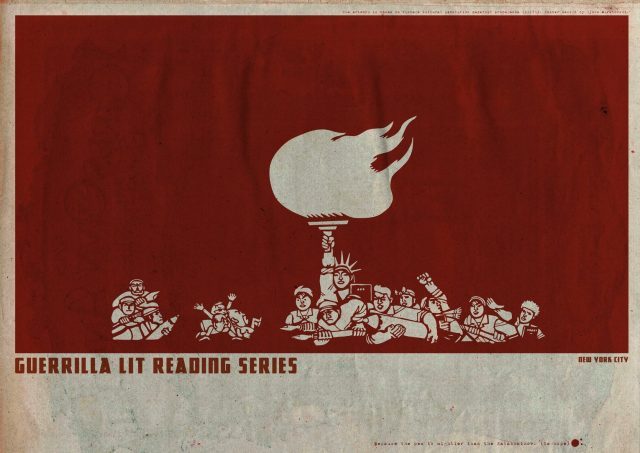 About This Show
This series has hosted readings by emerging & established authors since 2007. Because the pen is mightier than the Kalashnikov (we hope). Curated by Lee Matthew Goldberg, Camellia Phillips, and Marco Rafalá. Hosted by Marco Rafalá.
Featuring Nancy Hightower, Alex Gilvarry, and Jessie Chaffee
About the Authors
Nancy Hightower has been published in places such as Entropy, Sundog Lit, Word Riot, storySouth, Flapperhouse, and Gargoyle, and has written about politics and religion in HuffPost. From 2014-2016, she reviewed science fiction and fantasy for The Washington Post. She is the author of The Acolyte, (poetry, Port Yonder Press, 2015), and is currently working on a book about digital storytelling with Paul D. Miller for Duke University Press, as well as a memoir about growing up in the evangelical South.
Alex Gilvarry was born in Staten Island, New York, in 1981. He is the author ofFrom the Memoirs of a Non-Enemy Combatant, winner of the Hornblower Award for First Fiction (from the New York Society Library), Best New Voice 2012 by Bookspan, and selected by the New York Times as an Editor's Choice. He's a National Book Foundation 5 Under 35 nominee and he has received fellowships from the Harry Ransom Center and the Norman Mailer Center. His essays and criticism have appeared in The Nation, Boston Globe, NPR's All Things Considered, and many other publications. His second novel, Eastman Was Here, is forthcoming from Viking in August 2017. He is a professor of creative writing at Monmouth University where he teaches fiction.
Jessie Chaffee's debut novel, Florence in Ecstasy, was published by The Unnamed Press in May 2017. She was awarded a 2014-2015 Fulbright Grant in Creative Writing to Italy to complete the novel, during which time she was the Writer-in-Residence at Florence University of the Arts. Her writing has been published in The Rumpus, Bluestem, Global City Review, Big Bridge, and The Sigh Press, among others. She lives in New York City, where she is an editor at Words Without Borders, an online magazine of international literature.
Wednesday, September 13 at 7:30pm
Estimated Runtime
50 minutes
share £
Credits
this event is funded in part by poets & writers with public funds from the new york state council on the arts with the support of governor andrew cuomo and the new york state legislature.