In the lounge

Guerrilla Lit Reading Series

Featuring Katie Longofono, Joel Allegretti, and Andrea Kleine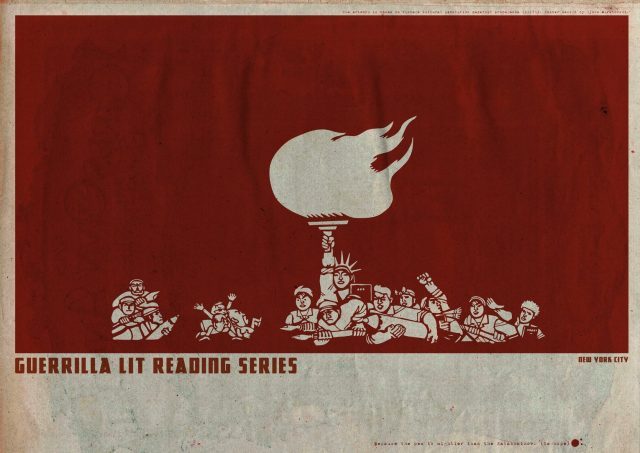 About This Show
This series has hosted readings by emerging & established authors since 2007. Because the pen is mightier than the Kalashnikov (we hope). Curated by Lee Matthew Goldberg, Camellia Phillips, and Marco Rafalá. Hosted by Lee Matthew Goldberg.
Featuring Katie Longofono, Joel Allegretti, and Andrea Kleine
About the Authors
Katie Longofono received her MFA in poetry from Sarah Lawrence College, where she directed the 2014 SLC Poetry Festival. She co-founded and curated Dead Rabbits Reading Series 2014-17, and co-produced AmpLit Fest in 2016 and 2017, in partnership with Lamprophonic and Summer on the Hudson. She is the author of three chapbooks: Angeltits(Sundress Publications 2016), Honey and Bandages (co-authored with Mary Stone; Folded Word Press 2015), and The Angel of Sex (Dancing Girl Press, 2013). Her work has appeared in The Boiler Journal, Tinderbox Poetry Journal, glitterMOB, South Dakota Review, Juked, Slipstream, and more. You can find her on twitter @longofonz. She lives in Brooklyn.
Joel Allegretti is the author of, most recently, Platypus (NYQ Books, 2017), a collection of poems, prose, and performance texts, and Our Dolphin (Thrice Publishing, 2016), a novella. He is the editor of Rabbit Ears: TV Poems (NYQ Books, 2015), the first anthology of poetry about the mass medium. Allegretti has published his poems in The New York Quarterly, Barrow Street, Smartish Pace, PANK,and many other national journals.
Andrea Kleine is the author of the novel Calf, which was named one of the best books of 2015 by Publishers Weekly. She is a five-time MacDowell Colony Fellow and the recipient of a New York Foundation for the Arts fellowship. A performance artist, essayist, and novelist, she has been described as an "enigmatic and eccentric" (The New York Times), "brainy, allusive Downtown artist" (The Village Voice), whose work is "wry, poignant" (The New York Times) and "something like genius" (ArtVoice). Her second novel, Eden, will be published by Houghton Mifflin Harcourt in 2018.
Wednesday, October 18, 2017 at 7:30pm
Estimated Runtime
50 minutes
share £