PEN World Voices Festival of International Literature

Dystopian Wastelands

Claire Vaye Watkins, Jeff VanderMeer, Emily St. John Mandel & Alexander Weinstein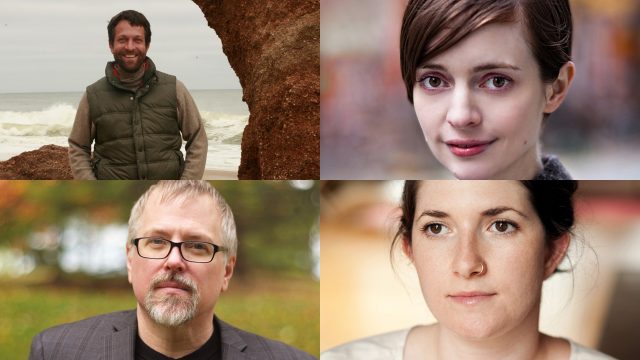 About This Show
From cataclysmic natural disasters to unexpected plagues, one thing is clear: the world is going to end, and soon! How do writers imagine a post-apocalyptic society and what does this tell us of our relationship with the environment, science, and the unknown? An eclectic panel of writers who are either masters of the genre or are exploring its possibilities – how do they imagine a dystopian world in their novels in the age of climate change?
about the panalists
Alexander Weinstein is the director of the Martha's Vineyard Institute of Creative Writing. His new book, Children of the New World introduces readers to a near-future world of social media implants, memory manufacturers, dangerously immersive virtual reality games, and alarmingly intuitive robot. Weinstein's latest book, Children of the New World
Emily St. John Mandel is the author of four novels, most recently Station Eleven, which was a finalist for the National Book Award and the PEN/Faulkner Award for Fiction, won the Arthur C. Clarke Award, and has been translated into 30 languages. She lives in New York City.
Jeff VanderMeer is an award-winning novelist and editor. The first volume of his New York Times–bestselling Southern Reach Trilogy, Annihilation, will be released as a film in 2017. VanderMeer is also the co-editor of The Big Book of Science Fiction with his wife, Ann VanderMeer. His latest novel, Borne, is forthcoming from MCD/FSG in April 2017.
Named one of the National Book Foundation's 5 Under 35, Claire Vaye Watkins is the author of Battleborn, and a recipient of the Story Prize, the American Academy of Arts and Letters' Rosenthal Family Foundation Award, and a Guggenheim Fellowship. Her stories and essays have appeared in Granta, One Story, The Paris Review, and Ploughshares. Vaye Watkins is an assistant professor at the University of Michigan. Watkins' latest book, Gold Fame Citrus
Friday, May 5 at 7pm
Estimated Runtime
90 minutes
share £
Credits
Photo credit:
Jessica Spilos (for Alexander)
DeseRae I Stage (for Emily)
Kyle Cassidy (for Jeff)
Heike Steinweg (for Claire)
Links