International Human Rights Art Festival

Theatre: Duck by Tom Block

Tom Block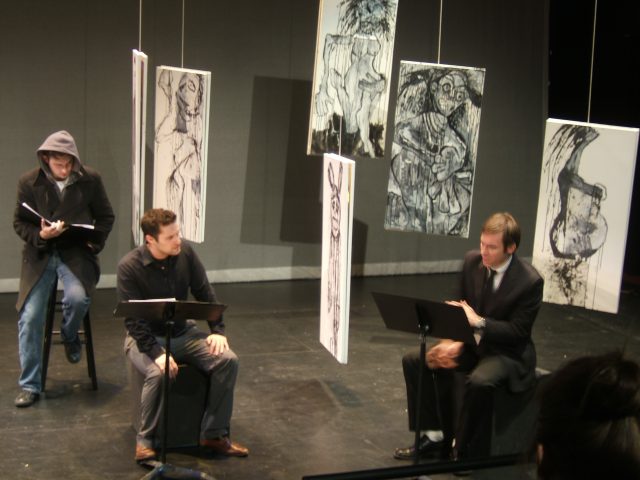 About This Show
Duck (Billy) has reached the end of his rope and only communicates by quacking.  After a career in the CIA, which has led to a downward emotional spiral, he finds himself on a park bench, which happens to be the home of his older brother Crumb (John), who was also once a CIA operative and Duck's colleague.  Crumb lost faith in the system, leaving his younger brother to kill for reasons of state while he, Crumb, dropped out of society.  The play is an exploration of Duck's path, from faithfully patriotic to distressed and unmoored.
Duck was initially created from four 10-minute plays written for the "30 plays in 30 days" project (August 2013).  It was developed with Director Brad Raimondo and then had a staged reading at the 14th Street Y Theater, NY (December 2013); Spooky Action Theatre, DC, directed by Kristy Simmons (September 2014): Wide Eyed Productions "WINKS" Series (May 2015), directed by Suzanne Karpinski and then read for Secret Theatre's (NY) New Voices Project, September 2015. It was rewritten after each of these workshop events.
Directed by Katrin Hilbe
Assistant Director and Stage Manager: Anna Schultz
Duck: Mike Amato
Crumb: David J. Goldberg
Tess/Abbie/Susan: Erika Lee
Weigert/Dutch Doctor:  Annemarie Hagenaars
Marvin Friedman/Priest: Michael Hajek
Frates: Josh Wolonick
About the Festival
Dixon Place and the Institute of Prophetic Activist Art present: The International Human Rights Art Festival, produced, March 3-5, 2017 at Dixon Place. This is the first human rights art festival in the long and vibrant history of New York City's cultural scene. The Festival is produced by Tom Block, long-time artist-activist, author of Prophetic Activist Art: Handbook for a Spiritual Revolution, and founder of the Institute of Prophetic Activist Art, an art-activist incubator housed at Dixon Place. Playwright and Director Julia Levine is the Assistant Producer.
The 2017 Festival will involve more than 70 artists presenting 40+ advocacy art events over the weekend, including theatre, visual art, music, dance, installations, workshops, panels, performance, films and KidsFest, to introduce children to the importance of art-advocacy work through hands-on activities. Join us for a weekend of art, advocacy, and celebration, with a happy hour featuring tasty human-rights themed concoctions, human rights trivia, prizes, t-shirts and much more.
Saturday, March 4 at 5:00pm
General Admission
$10 in advance
$15 at the door
Included in Saturday Day Pass
Estimated Runtime
80 minutes
share £
Links