Down on Griffin Alley
Connie Winston & Jean Randich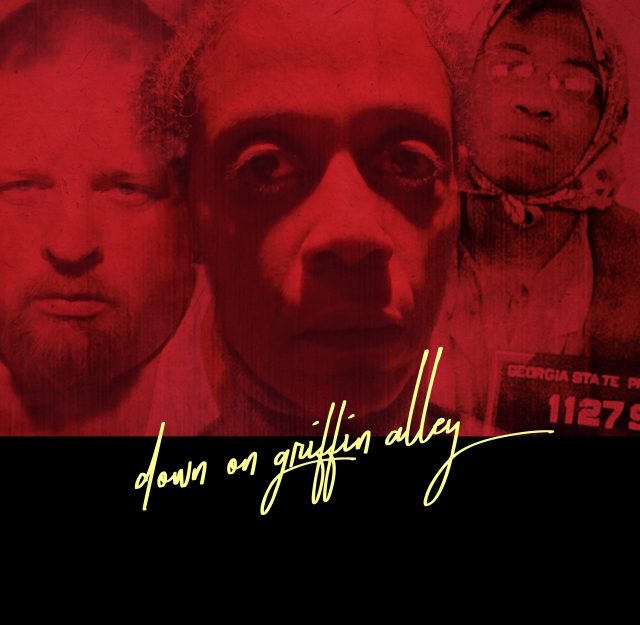 About This Show
Down on Griffin Alley written by Connie Winston and Jean Randich, is an anti-death penalty/love story performance piece based on the life, trial, and execution of Lena Baker, an African American maid in Cuthbert, Georgia. Lena Baker was wrongfully convicted of killing her ex-lover and employer, Ernest Knight, a white man who had locked her up in his gristmill to keep her against her will. Through actual trial testimony and devised scenes, we explore what was said and what was silenced.
about the artists
Kendall DuPre' (Assistant Director) is currently in her third year at New York University's Tisch School of the Arts. She studies in the school's Experimental Theatre Wing and is also completing a minor in Creative Writing.
Joel Marsh Garland* (Police Officer, Sheriff Taylor, E.B. Knight) is an award winning actor, director and editor. He has appeared on, off, and off-off Broadway. He is best known for his work on Netflix's Orange is the New Black. He can be found on Twitter @joelmgarland and Instagram @oneoldog.
Shea Glover (Court Stenographer, Queenie) is an eager actress from Chicago working towards her BFA in theatre at Pace University in Lower Manhattan. When she was a child, she started out doing Improv at Second City. Her creative hunger was fed throughout her performing arts high school career until she realized that in order to continue pursuing her passion, she had to move to the Big Apple.
James Hallett* (W.L. Ferguson, Mr. Cox) Recent Films: Universal Pictures Little Rascals Save the Day, Operation 021 (action thriller shot in Pakistan) and Body Complete (shot in Bosnia).  Broadway: The Diary of Anne Frank with Natalie Portman. MFA, Yale School of Drama. James' father was one of the first white northern ministers to travel to Mississippi to join the Civil Rights Movement.
Abigail Hoke-Brady (Lighting Designer) Abby's projects include the new opera, This Takes Place Close By at the Knockdown Center with ThingNY and NY Times Critic's Pick Bears in Space with Collapsing Horse. Current projects include The Aging Magician with BMP (Associate Lighting Designer) and lighting supervisor with Dance Theatre of Harlem. MFA NYU '16.
Joey Huertas (Videography/Digital Graphics) is an experimental filmmaker/ videographer. He and Connie originally collaborated on this project as an Expanded Cinema performance piece entitled, On Griffin Alley. Joey's upcoming project is an experimental, political documentary film sponsored by the Centre of Contemporary Arts. He is president of Millennium Film Workshop.
Kim Marie Jones* (Stage Manager) has over 20 years of experience in the theatre as a Production Manager, Lighting Designer, Props Master, AEA Stage Manager, and Producer. Kim is an Alumna of St. John's University and the American Academy of Dramatic Arts. Member: Actors' Equity Association; Workshop Theatre Company.*
Nolan Lunsford (E.C. Knight, Warden) is very excited to be working on such a powerful project. He is in his junior year in Pace University's BFA Acting Program. His past work includes An Octoroon, HAIR!, and Middletown, all performed on Pace's MainStage.
Robert Murphy (Sound Designer) is a composer, sound designer and playwright.  Along with Jean Randich, he is one half of Collider Theater Company, a performing arts organization dedicated to exploring the collision of cultures. At times he wonders if he's being punished for something terrible he did in a previous life.
Jean Randich (Writer/Director) has been staging new plays and musical theater, as well as re-imagining the classics for over thirty years. She and Robert Murphy co-founded Collider Theater to explore the power of theater to speak truth to a fraught, conflicted world. Ms. Randich has directed in Germany and Norway and received an NEA/TCG Director Fellowship and a Jonathan Larson Performing Arts Grant. Training: MFA, Brown University and MA, Yale School of Drama. www.jeanrandich.com.
Effy Redman (Dramaturg) has previously collaborated with Jean Randich and Connie Winston on Lemkin's House by Catherine Filloux. Effy is a recent graduate of Hunter College's Creative Writing MFA program in Memoir. She has published work in The New York Times, Broadly and elsewhere.  
Sue Rees (Projection Designer) is delighted to be working with Jean and Connie again. She has worked with numerous directors, choreographers and composers in the U.S., Europe and India. In 1989, she received a "Bessie," and was nominated for a Hewes Design Award in 2005 for Jabu at the Flea Theater. She teaches Animation and Set Design at Bennington College. www.suerees.org.
Charles Schoonmaker** (Costume Designer) is the recipient of four Daytime Emmy Awards and an IRNE Award for Best Costume Design for Venus in Fur at the Huntington Theatre. Television credits include Another World, All My Children and As the World Turns. He teaches costume design at Bennington College. www.Charles-Schoonmaker.com.
Kana Takahasi (Graphic Designer) hails from Tokyo, Japan, where she designed graphics for the underground music scene. She moved to New York City seeking a stronger voice for her graphic designs.
Nikk Tavo (T.E. Shaffer, George Stinney, Jr.) is an actor/director completing his studies in Pace University's BFA Acting Program. He was most recently seen in An Octoroon at Pace University. When he's not acting, he works as a cinematographer for short films and music videos.
Cole Taylor (Joe M. Ray, William Kemmler) is a senior BFA Acting major at Pace University. Most recently, he played BJJ/George & M'Closky in An Octoroon by Branden Jacobs-Jenkins, directed by Jean Randich. He's incredibly excited to be a part of this project and shed light on such a powerful topic.
Connie Winston (Writer, Lena Baker, Lecturer, Actress) Theater – Regional: Having Our Say, Bee-luther-hatchee. New York: Lemkin's House (dir: Jean Randich), Belize (dir: Paul Zimet), Bad Women (dir: Tina Shepard), Television: Law & Order (recurring). MFA in dramaturgy,University of Iowa. www.conniewinston.com.
Taylor Ybarra (Associate Producer) is thrilled to help bring this timely story to fruition. His involvement with this play is dedicated to those less privileged, whose voices are routinely silenced. Taylor is a producer, actor, singer, dancer and musician. BFA NYU Tisch Drama. www.taylorybarra.com.
Monday, March 20 at 7:30pm
General Admission
$15 in advance
$18 at the door
Stu./Sen./idNYC
$12
Estimated Runtime
60 minutes
share £
Credits
Directed by
Jean Randich
Written by
Connie Winston, Jean Randich
Associate producer
Taylor Ybarra
Featuring
Joel Marsh Garland*, James Hallett*, Shea Glover, Nolan Lunsford, Cole Taylor, Nikk Tavo and Connie Winston
Projection Design by
Sue Rees
Costume Design by
Charles Schoonmaker
Lighting Design by
Abigail Hoke-Brady
Sound Design by
Robert Murphy
Dramaturgy by
Effy Redman.
*Member of AEA.
Links