In the lounge

D&DF&P

Danielle Friedman & Doron Perk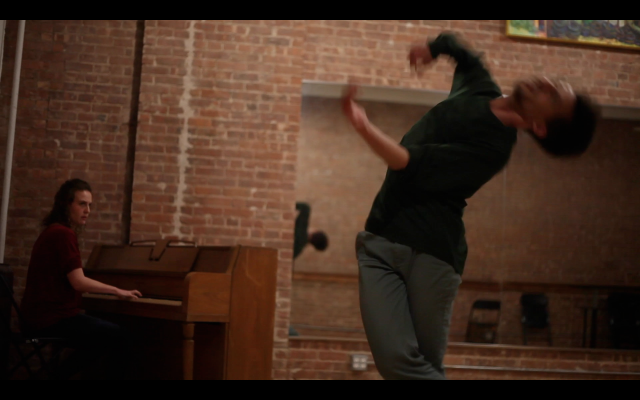 About This Show
We are a Free Improvisation based duo. We use music and dance improvisation to create moment inspired pieces. Our work is dependent on communication and interpreting the other to build a story together. This evening is a culmination of months of collaborative research and immersion in the present moment.
about the artists
Born in 1990, Doron Perk studied at the Music and Dance Academy in Jerusalem. He is a recipient of the America-Israel Cultural Foundation Scholarship 2003-2008 and was awarded a full scholarship for the Conservatoire de Paris along with Pas de Deux Master Class and Mia Arbatova Association in 2006. Between 2008 and 2015, Doron danced for the Croatian National Theater Ballet in Split, Compañía Nacional de Danza in Madrid the Batsheva Ensremble in Tel Aviv. Currently living in New York City , Doron is a Gaga Teacher since January 2015 and a dancer at Zvidance since March 2016.
Born in 1991, Danielle Friedman is a pianist and composer.She was educated at the Conservatory of Tel Aviv, Israel (CJS) between the years 2010-2013, where she studied with Israel's finest musicians. During those years she played in various venues (Shablul jazz, Ha'ezor, Yellow submarine, e.g.) and various festivals around the country as a side person in small jazz and pop ensembles, with the Tel Aviv jazz bid band and with her own group. In 2014 Danielle won the New School competition and was awarded a full scholarship to The New School for Jazz and Contemporary Music in New York, where she has studied and graduated with Honors in 2016 with a degree in Fine Arts. These Days Danielle resides in New York, is teaching piano and performing in various venues with several of her projects.
Wednesday, May 24 at 7:30pm
Estimated Runtime
45 minutes
share £
Credits
Piano
Danielle Friedman
Dance
Doron Perk
Photo credit
Marina Oriente
Links