Dark Horse
Cassandra: The Songstress of Magic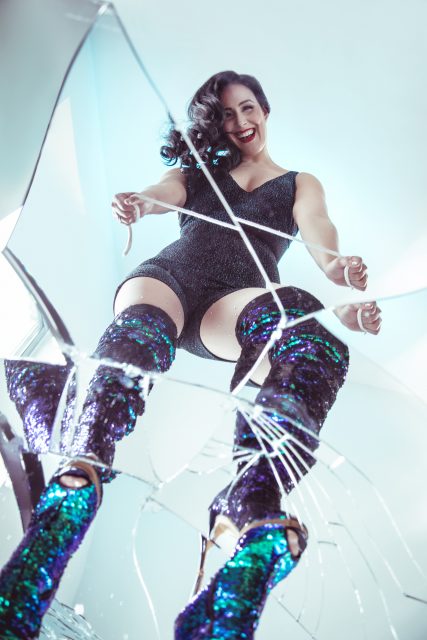 About This Show
Cassandra, "The Songstress of Magic" invites you to experience her journey as a magician. Through jaw-dropping sleight-of hand, innovative illusions, and musical vignettes of magic, Cassandra shares her story of keeping secrets and revealing heart.
The term "Dark Horse" refers to a winner that unexpectedly climbs to success. In this show, Cassandra confronts experiences with overcoming the obstacle of finding her voice (both literally and figuratively). While shining a light on issues of gender inequality, physical/mental struggles, and claiming her place in the artistic world as a magician, she emerges triumphantly in what can only be described as magic.
about the artist
Cassandra, who is also referred to as Manhattan's "Songstress of Magic," exudes a unique sense of Old Hollywood glamour and a quirky sense of humor that the New York Times described as "Magical!"   Born and raised in New York, Cassandra started performing at 8 years old. By 16, she began winning opera competitions. She studied voice at Mannes School of Music and Westminster Choir College. Her unique combination of powerful singing and sophisticated feats of prestidigitation has brought her around the world, to TV, and now to Dixon Place!
Thursday, February 22, 2018 at 7:30pm
General Admission
$15 in advance
$18 at the door
Stu./Sen./idNYC
$12 in advance
$15 at the door
Estimated Runtime
60 minutes
share £
Credits
Created by
Cassandra: The Songstress of Magic
Music Director & Pianist:
Ben Houghton
Rhythm:
Brady Cudmore
Bass Guitar:
Andrew Grau
Choreographer:
Talia Putrino
Costume Designer & Wardrobe Manager:
Rosann Ruiz
Magician Assistants:
Lydia Pusateri, Madison Selfaison & Ben Nemzer.
Magic Consultants:
Ben Nemzer, Noah Levine, Mike Patrick
Special performance by:
Vintage Harmonies
(Lydia Pusateri & Gabriela Z. Hernandez, & Madison Selfaison)
Photo credit:
Stephen Dillon
Links