PEN World Voices Festival presents

CRY, THE BELOVED COUNTRY

Serhiy Zhadan, Ngũgĩ wa Thiong'o, Domenico Starnone, Ryszard Krynicki, Hwang Sok-yong, Négar Djavadi, Marcos Aguinis, Basma Abdel Aziz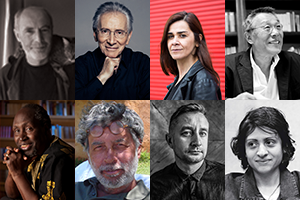 About This Show
In recent decades, many countries have succumbed to autocracy or outright tyranny, but in every instance the voices of the people have risen to protest and resist. Those voices are often, powerfully, those of writers whose special gifts articulate the pain and rage of oppressed populations. Writers from eight countries that have suffered, or still suffer, from tyranny and oppression speak to the pain of what happened in their homelands. Join us for an evening of solidarity.
Serhiy Zhadan was born in the Luhansk Region of Ukraine and educated in Kharkiv, where he lives today. He is the author of twelve books of poetry and seven books of prose. An English translation of his book Mesopotamia has just been published by Yale University Press.
Photo Credit: Julia Weber
Ngũgĩ wa Thiong'o, one of the leading writers and scholars at work today, was born in Limuru, Kenya, in 1938. He has been nominated for the Man Booker International Prize and currently teaches English at the University of California, Irvine.
Photo Credit: Daniel Anderson
Domenico Starnone is the author of thirteen novels, including Via Gemito, winner of Italy's most prestigious literary prize, the Strega, and Ties, a New York Times Notable Book of the Year, and a Sunday Times and Kirkus Best Book of the Year.
Ryszard Krynicki, an editor, publisher, and acclaimed translator as well as a poet, lives in Krakow with his six cats.
Hwang Sok-yong is arguably Korea's most renowned author. After surviving five years in a North Korean prison, Sok-yong went on to receive Korea's highest literary prizes. His work is published in North and South Korea, Japan, China, France, Germany, and the U.S.
Négar Djavadi was born in Iran in 1969. She arrived in France at the age of eleven, having crossed the mountains of Kurdistan on horseback with her mother and sister. Disoriental is her first novel. She lives in Paris.
Photo Credit: Philippe MATSAS / Opale / Leemage / Editions Liana Levi
Marcos Aguinis wrote the definitive account of the life of Francisco Maldonado da Silva, who resisted the Spanish Inquisition in South America, with his novel Against the Inquisition (8/1/18). This book came highly recommended as a "stirring song to freedom" by Nobel Prize in Literature laureate Mario Vargas Llosa.
Photo Credit: Veronica Vissagio
Basma Abdel Aziz is an award-winning writer, sculptor, and psychiatrist. She is a long-standing vocal critic of government oppression in Egypt, and in 2016 was named a Foreign Policy Global Thinker for her debut novel The Queue. She lives in Cairo.

Thursday, April 19, 2018 at 7pm
Estimated Runtime
90 minutes
share £