Crossing Boundaries
Featuring Elke Rindfleisch, Sonia Lopes Soares, Sara Gurevich, Regina Nejman, Barbara Mahler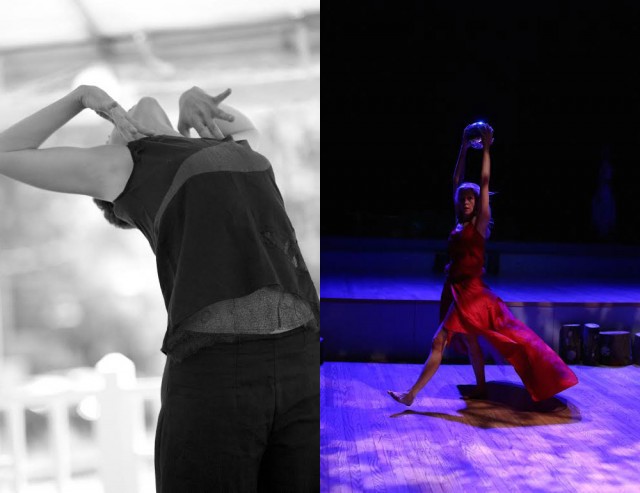 About This Show
New work by choreographers who cross cultural, geographic & disciplinary boundaries. Curated by Marcia Monroe.
About the Artists
Barbara Mahler is a longtime member of the New York City dance community. She is active as a choreographer, performer, movement educator, and body worker. Mahler is also one of the major developers, champions and master teachers of Klein Technique – an original method of developing movement and posture through deep understanding of skeletal and muscular structure of the body and its expressive possibilities. Since 2004, Barbara has been a faculty member with Movement Research, as well as teaching at various studios, colleges and festivals in the greater NY area, across the US, and abroad. Her choreography explores the endless possibilities that the body can reveal – spare and articulate, compositional, and evocative. Mainly a solo artist, she also creates intimate duets and trios. Her pieces have been presented in New York, across the US and internationally – in the UK, Canada, Chile, Sweden, Finland, Denmark, and more. Barbara was a guest faculty member of the Danish National School of Theater and Contemporary Dance and a guest artist and teacher at Hunter College NYC. She is the recipient of a BAX Award in Arts and Arts Education 2013. In 2015, she was awarded a LIFT-OFF Choreographic Residency in NYC. Upcoming plans include travel to Tel Aviv, Berlin London, and Vienna.For more information, visit Barbara's website. 
Since 1999 Elke Rindfleisch has created a rigorous, critically acclaimed body of solo and ensemble works characterized by raw, highly visceral performances. Rindfleisch explains, "I play with beauty and authentic presence to create an environment that coaxes our curiosity to look at things in a different light—provoking fresh reactions to personal, physical, and spatial relationships. Themes circling around the human condition and universal connections offer a personal mirror to the viewer or a reflecting on the larger picture." Her dances have been presented at the Ohio Theater, Jacob's Pillow Inside/Out, Mt. Tremper Arts, LMCC's Sitelines, Danspace Project Dance:Access, EDEN/Berlin, Currents New Mexcio, and Roulette. For more information, visit Elke's website.
Sônia Lopes Soares is a Brazilian director, choreographer and performer, who has worked with dance and theater for 20 years. Cultivating a language through multidisciplinary collaboration, Soares constructs scenes using nonlinear, poetic narratives to mirror the random and chaotic nature of the universe. Her investigation encompasses the vulnerability in the bodies, the line between fiction and reality, the ridiculous and tragic, and how these all interconnect. Sonia has received four prestigious awards in dance, from the city of São Paulo and the British Council. She has performed her work in Argentina, Peru, USA, France at George Pompidou, and the Edinburgh Fringe Festival. For more information, visit Sonia's website. 
Sara Gurevich is a dance artist interested in improvisation as performance, collaborative creative process, and the humor in everything. She graduated from the Ailey/Fordham BFA Dance program cum laude, and has since worked with and performed works by Pavel Zustiak, Alex Ketley, Helen Pickett, Samar Haddad King, and Itzik Galili. She has presented her own work in Fleet Moves Dance Festivals in Cape Cod, FAB! Festival in NYC, and the Domestic Performance Agency in Brooklyn. Alongside creating her own work, she is currently performing with Raja Feather Kelly/feath3r theory and apprenticing with Bill T. Jones/Arnie Zane Dance Company.
Regina Nejman grew up in Rio de Janeiro, Brazil and is based in New York City, where she has been creating her own choreography since 1993 and founded Regina Nejman & Company in 1997. She has performed extensively both here in the United States and abroad. Nejman received her BA from SUNY/Empire State College in 1998. She received grants from the Foundation for Contemporary Arts, Greenwall Foundation, LMCC/MCAF, Puffin Foundation, Meet the Composer, Joyce Theater Residency, and others. She taught dance at Princeton University, Wesleyan University, Harvard Summer Dance, NYU Common Hour Class, and LaGuardia PA High School. Currently, Regina teaches at various middle and high schools in the City. For more information, visit the Regina Nejman Company website or Facebook page. 
Tuesday, Oct. 27 at 7:30pm
General Admission
$12 in advance
$15 at the door
Students / Seniors
$10
share £
Credits
Left Photo Credit (Barbara Mahler)
Tony Turner
Right Photo Credit (Elke Rindfleisch)
Paula Court
Links