Crossing Boundaries
Curated by Marcia Monroe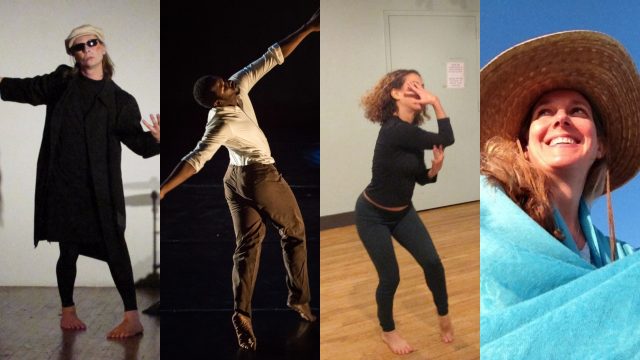 About This Show
New work by choreographers who cross cultural, geographic & disciplinary boundaries.
Curated by Marcia Monroe.
Featuring Zack Fuller, Cate McNider, Regina Nejman, Periapsis Music and Dance
About the Artists
Zack Fuller has performed throughout Europe, Japan, and the U.S. in works by the renowned dancer/farmer Min Tanaka, including the U.S. tour of Poe Project and the European tour of the Goya series. His own work has been presented by CAVE's New York Butoh Festival, Plan B in Tokyo, The Dance Hakushu Festival, Mobius in Boston, Movement Research at Judson Church, and elsewhere. His dance has been described by the Boston Globe as "Cryptic… but characterized by astonishing theatricality," and "Like an angel coming down Jacob's ladder to play in the garbage" by the Japanese dance critic Hidenaga Otori.
Cate McNider's work has been called "a dialogue with invisible forces." Her work is researched and expressed through improvisation. She graduated from ACAT in 2016 with an Alexander Technique teacher certificate to top off decades of explorations in bodywork, movement and patterning. This piece called 'Body-Mind Cafe' integrates her poetic and visual work in a mixed media presentation. Many thanks to Dixon Place and Marcia Monroe for this opportunity to humbly step onto the stage again.
Regina Nejman grew up in Rio de Janeiro, Brazil, and is based in New York City where she has been creating her own choreography since 1993 and founded Regina Nejman & Company in 1997. She has performed extensively both here in the United States and abroad. Regina received her BA from SUNY/Empire State College in 1998. For her work, she has received the support from the Foundation for Contemporary Arts, Greenwall Foundation, LMCC/MCAF, Puffin Foundation, Meet the Composer, Joyce Theater Residency. She has taught dance at Princeton University, Wesleyan University, Harvard Summer Dance, NYU Common Hour Class, LaGuardia PA High School and HAI. Regina is a per-diem dance teacher at DOE and a Teaching Artist at CAE. Regina will premiere her recent work "Beautiful Figure" on June 2-4 at LaMama Moves! 2017.
Periapsis Music and Dance seeks to cultivate a new concert repertoire at the intersection of live dance and music performance by actively contributing to it with our ensemble and by facilitating and encouraging such collaborations within the community.  Our resident company of dancers and musicians, under the leadership of artistic director Jonathan Howard Katz and resident choreographers Erin Dillon and Hannah Weber, is building a repertoire of groundbreaking new works. Each collaboration is a fresh experiment, guided by the combined artistic vision and talents of choreographer, composer, and performers.
Tuesday, April 25 at 7:30pm
General Admission
$15 in advance
$18 at the door
Students/Seniors/idNYC
$12
Estimated Runtime
60 minutes
share £