Crossing Boundaries
Featuring Elise Knudson, Zara Lawler, Luis Lara Malvacias and Emily Berry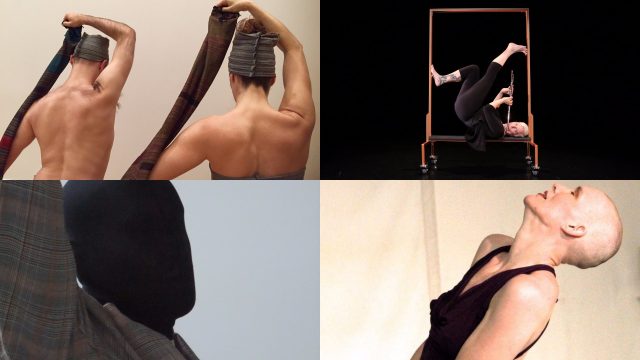 About This Show
New work by choreographers who cross cultural, geographic & disciplinary boundaries.
Curated by Marcia Monroe.
Featuring Elise Knudson, Zara Lawler, Luis Lara Malvacias and Emily Berry
About the Artists
Elise Knudson is a New York based dance artist and educator. She has authored about thirty long and short works for stages large and small and is now interested in instant choreography. She is grateful for the privilege of dancing for Risa Jaroslow for the past decade. She has recently performed for/with David Apel, Nancy Stark Smith, Kiori Kawai/Purring Tiger, and will appear with Jenni Hong in December. Elise teaches and facilitates Contact Improvisation through Movement Research and CI festivals.
Ground-breaking flutist and interdisciplinary artist Zara Lawler combines music, dance & theatre. In 2012 she staged Italian composer Salvatore Sciarrino's Il Cerchio Tagliato dei Suoni for 104 flutes at the Guggenheim, and in 2015 she directed a Flute Jamboree at the Kennedy Center. In 2018, her theatrical concertClickable will be released as a CD with percussionist Paul Fadoul.  She is currently working on Like Dancing About Architecture, an evening-length show with choreographers Melissa Riker and C. Neil Parsons, and composer Jessica Meyer.  She studied at Juilliard with Carol Wincenc and Samuel Baron.  zaralawler.com
Luis Lara Malvacías is a Venezuelan artist whose body of work has focused on ideas of transformation, multiplicity, authorship and the role of the audience in dance performance. In his choreography and trans-disciplinary projects, he questions preconceived ideas of choreography, and modes of production and presentation. He has presented his works in several venues in NY and has performed worldwide, from conventional venues to more unconventional spaces. His current projects include the creation of 26 collaborative duets (A-Z) with his life partner Jeremy Nelson examining TIME and performance, using significant signposts connected with life and aging. His work is presented under Luis Lara Malvacías / 3RD CLASS CITIZEN
Emily Berry is the Artistic Director of B3W Performance Group, which has performed in the US, England, Greece, Italy, Mexico, and throughout NYC. B3W received the Mondo Cane Commission at Dixon Place for Confined (2010). Forgiveness, influenced by a world tour of Community Forgiveness Workshops, premiered at Tribeca Performing Arts Center May 2016!  We are currently working on Part II: Forgiveness: Resisting Racism. Eva Yaa Asantewaa (Infinitebody) describes Berry's work as "Memorable, intelligent, strong".  Emily is currently performing with danceTactics Performance Group/Keith A. Thompson.  Emily was a Field Leadership Fund Fellow from The Field.
Tuesday, December 12, 2017 at 7:30pm
General Admission
$15 in advance
$18 at the door
Students/Seniors/idNYC
$12
Estimated Runtime
60 minutes
share £