Crossing Boundaries
Curated by Marcia Monroe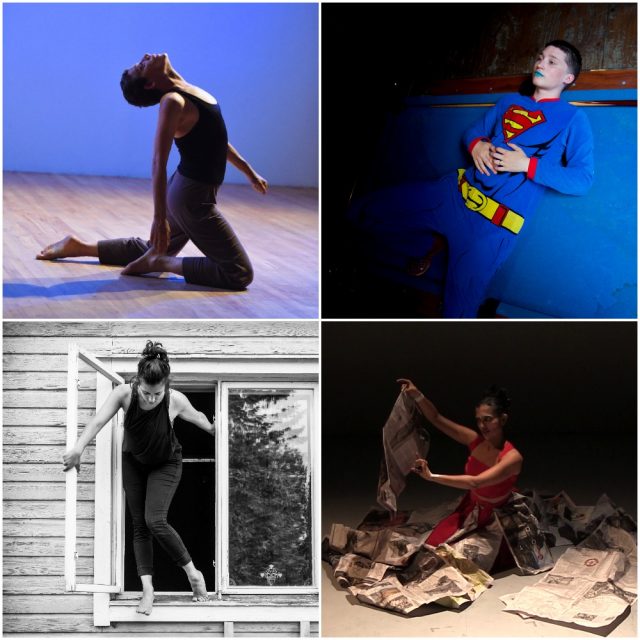 About This Show
New work by choreographers who cross cultural, geographic & disciplinary boundaries.
Curated by Marcia Monroe.
Featuring Carol Mendes, Ashley Yergens, Parijat Desai, Barbara Mahler, and Luis Malvacias & Jeremy Nelson
About the Artists
Ashley R.T. Yergens made their debut with Is this more ladylike? at the Walker Art Center's 2014 Choreographers' Evening. Ashley is a byproduct of growing up on tater tots and WWE SmackDown, being queer in small town USA, and bonding with blue collars. Their choreography has been presented at venues such as the Wild Project Theater, Dixon Place, Center for Performance Research, Annoyance Theatre, and the WOW Café Theatre. Recently, they received a 2016 boo-koo Space Grant from Gibney Dance, and they are a 2016-17 Fresh Tracks Artist at New York Live Arts. Additionally, you can catch them Yackez-ing with Larissa and Jon Velez-Jackson.
India-born, U.S.-raised Parijat Desai creates hybrids of contemporary and Indian classical dance, theater, and other movement forms. She also interfaces with architecture and public space to explore human/social issues through the performing body. As a 2016–17 Movement Research Artist-in- Residence, Parijat is developing JustLikeThat, a dance theater work considering the role of language in democracy. With Signs of the Times, Parijat continues her research into the bharata natyam padam, in which the dancer interprets lyrics of a song using gesture and facial expression. She's joined in this iteration by actor/vocalist Cicily Daniels, guitarist David Ellenbogen, and drummer Dan Kurfirst.
Barbara Mahler has been an active member of the New York City dance community as a choreographer, performer, body-worker and movement educator for over 30 years. She is currently an ongoing faculty with Movement Research, NYC. Barbara has been Instrumental in the development and outreach of Klein Technique, for which she  received a of BAX 10 award in 2013. Consistent with her teaching vision, her choreography seeks to explore the endless possibilities that the body can reveal. Her work in all capacities  has taken her around the globe, most recently to Taipai, Tel Aviv, Vienna, Ireland, Chile London, California, Berlin . She has received support from the Gothenburg Cultural Council, and a Sage Cowls Land Grant from the University of Minnesota, MPLS; as well as support from Hunter College; Wilson College, PA (March 2015) . For this new solo, support came from Allen Street Studios, Barbara was also a chosen artist for EMERGE 2014, LIFT OFF (August 2015) and was Movement Research artist in Residence for two seasons.
Carol Mendes (@acarol_m) – dance maker, performance artist, film editor, and social media addicted – and Nicolas Pirata (@nicolaspirata) – photographer, video maker, and a foodie geek – are married in life and art. Their collaboration in life spans 15 years, but the Brazilian born artistic duo began their creative collaborations back in 2008. The couple lived in New York City from 2010 to 2016, and they recently created a series of new collaborations during an artistic residency at Haihatus, in Finland. They are honored to be premiering their latest dancefilm at Dixon place, while they are currently on the road around the world. You can follow their artistic adventures at dancimage.wordpress.com .
Tuesday, December 6 at 7:30pm

General Admission
$15 in advance
$18 at the door
Students/Seniors/idNYC
$12
Estimated Runtime
60 minutes
share £
Links