Corpse Revival Performance Series: Like Clockwork
Exquisite Corpse Company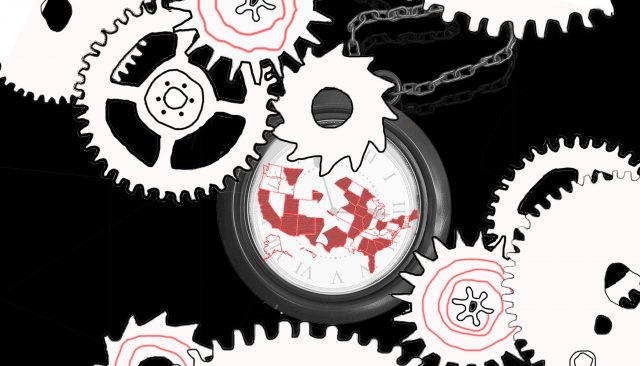 About This Show
A single art installation is a ticking backdrop for six new plays exploring various walks of American life in the face of the current political climate.
Algorithm
Tuesday, Jan 24th  7:30pm – Algorithm written by Alisa Sniderman, directed by Benita DeWit, featuring Ryan Feyk, Emily Hooper, Sarah White, Casey Worthington.
In the age of the Algorithm, data analytics assigns you a profession and predicts which one of your romantic prospects has the best chance of working out. In this world of clean efficiency, Luke and Mamie study for the most important test of their lives, a test that will determine their lifetime value. Luke follows the rules; Mamie doesn't. Luke wants to succeed; Mamie knows she's going to fail. One of them falls in love. Sorta. Maybe. The other gets used as a means to an end. You decide.
Click HERE for tickets
Elected Remains
Tuesday, Jan 24th   9:30pm – Elected Remains written by Leah Barker, directed by Alex Tobey, featuring Emily Giant, Patrick Horn, Michael Dermansky, Jose Gamo, Linus Gelber.
Business is booming in the nation's capital for a woman known by many different names to many different men. Her clients have unusual desires and high expectations, and there's little that she can't deliver. But when she receives an exceptionally disturbing request, her livelihood is put in jeopardy.
Click HERE for tickets
Clockwork
Wednesday, Jan 25  7:30pm – Clockwork written by Emily Zemba, directed by Jenna Worsham, featuring Rebecca Gray Davis, Trent Hayward, Xiomara Morgan, Jean-Patrick Simeon, Natalie Walker.
When a killer speech goes horribly awry, Darlene and her team must do all they can to fish her congressional campaign out of the toilet. Meanwhile, a young girl is dealing with a new home by planting potatoes in her neighbor's yard.  Clockwork is a comedy about losing, loss, and how to endure a real shit storm.  
Click HERE for tickets
Monte, TN
Wednesday, Jan 25  9:30pm – Monte, TN  written by Alexis Schaetzle, directed by Katie Pedro, featuring Stephan Godleski, Nicole Kontolefa, Ana Mirabel, Marianne Goodell.
After a cult leader is released from prison, his daughter and new girlfriend struggle to play like they're a family as storms hang heavy in the sky, and the unexpected arrival of the past forces them to stare straight into the eyes of the truth.
Click HERE for tickets
The Soup Play
Thursday, Jan 26 7:30pm – The Soup Play written by Alexis Roblan, directed by Tess Howsam, featuring Leigh Adel-Arnold, Kevin Argus, Phoebe Brooks, Lee Collins,  Anya Krawcheck. Stage Manager Molly Bicks
A white, female, progressive Brooklyn-based playwright tries to get inside the head (and marriage) of conservative Cuban-American Texas Senator Ted Cruz and his investment-banker wife, Heidi. A lonely, confusing attempt at empathy in the middle of the contentious 2016 presidential primaries, through the lens of identity politics, white liberalism, Campbell's soup, and self-righteous apathy.
Click HERE for tickets
Concertina
Thursday, Jan 26 9:30pm – Concertina written by Simon de Carvalho, directed by Anna Strasser, featuring Andriana Georgitsis, Tanyamaria McFarlane, Patrick O'Konis. Stage Manager Emily Davison
A young girl is found dead when a reconnaissance mission into the heart of Rebel territory goes awry. When John is arrested for the girl's murder, he must withstand a relentless interrogation, where the facts of the case are murky—if they matter at all.       
Click HERE for tickets
January 24, 25, 26 at 7:30pm & 9:30pm
General Admission
$15 in advance
$18 at the door
Stu / Sen / idNYC
$12 
Day Pass
$20 for 2 shows one night
Series Pass
$50 pass for all 6 shows
share £
Credits
Producer:
Blaire O'Leary
Design Head:
Tess Howsam
Set Design:
Danica Selem
Sound Design:
Carsen Joenk
Lighting Design:
L. W. Miller
Set Construction:
Chuck King
Artistic Associate:
Molly Bicks
Poster Design:
Bre Northrup
Photo credit:
BreNorthrup
Links