Terms and Conditions: Live
R. Sikoryak with special guests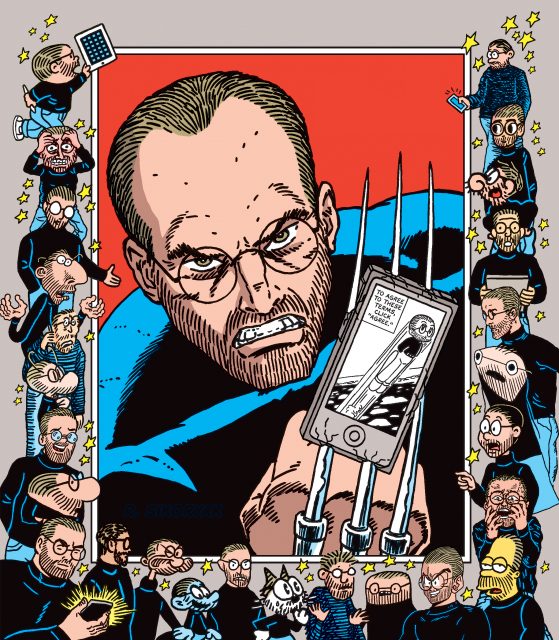 About This Show
R. Sikoryak has drawn the entire, unedited text of the iTunes Terms and Conditions as a color graphic novel, in over 90 distinct comics styles. It has just been published by Drawn and Quarterly and received coverage in The New York Times, BoingBoing, The Guardian, and more.
For this performance, Sikoryak will present the entire piece in a marathon three hour show. He'll project the artwork and read from the text, accompanied by the live music of Brian Dewan and guests. They will be joined by voice actors Paul Boocock, James Godwin, and more.
About the Artist
R. Sikoryak is the author of the graphic novels Masterpiece Comics and Terms and Conditions (Drawn & Quarterly). His comics and illustrations have appeared in The New Yorker, Fortune, The Onion, GQ, Esquire, MAD, and many other publications. He's occasionally drawn for television, including The Daily Show with Jon Stewart. His adaptations of literary classics have appeared in The Best American Comics 2015, The Graphic Canon, Drawn and Quarterly, and Fable Comics. Since 1997, he's presented his live cartoon performance series, Carousel, around the United States and Canada.
Brian Dewan has performed live music for silent films at Lincoln Center, The Brooklyn Museum and The American Museum of the Moving Image. He has released three albums of songs and performed extensively in clubs and concert halls as a solo artist and as a member of various ensembles. Currently he is represented by Pierogi gallery in Brooklyn NY. His I-CAN-SEE filmstrips have been screened at The Brooklyn Museum, The New Museum, The Whitney Museum of American Art, Modern Art Oxford and the Museum Of Jurassic Technology.
Paul Boocock, the voice of Dr. Jonas Venture and others in the Cartoon Network Series 'VENTURE Bros.', performs monologues at major venues in the NYC area, was in the original cast of ELEVATOR REPAIR SERVICE's 'Gatz', was one half of PREMIUM BOB, and much more.  He is a founding member of Verbal Supply Company and Director of Research for Sousou Partners.
James Godwin is a visual artist, puppeteer and performer and once choked David Bowie with a David Bowie puppet. His recent one man show Lunatic Cunning was awarded the Jim Henson award for innovation in puppetry in 2013.
And more…
Wednesday, April 5 at 7pm
General Admission
$12 in advance
$15 at the door
Stu./Sen./idNYC
$10
Estimated Runtime
180 minutes
share £
Credits
Drawings, voices
R. Sikoryak
Music
Brian Dewan
Voices
Paul Boocock, James Godwin, and more
Photo credit
R. Sikoryak
Links