Bright and Brave: A New Musical
The Fellowship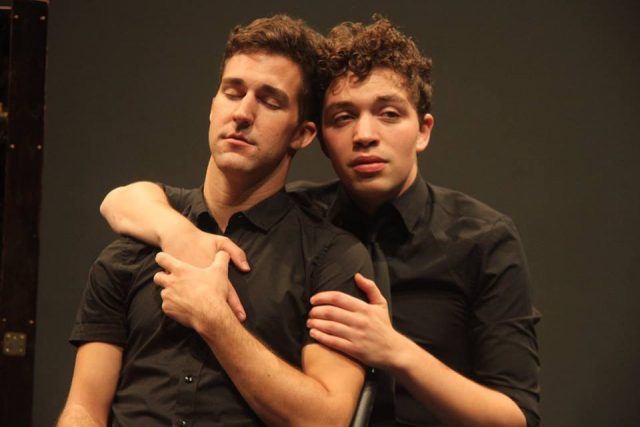 About This Show
Bright and Brave: A New Musical is based on a true story inspired by Morris B. Kaplan's Sodom on the Thames and the words and poems of William Johnson Cory and Reginald Brett, Second Viscount Esher. Reginald 'Regy' Brett and Charles 'Chat' Williamson, along with their classmates Elliot and Beak are about to embark on their final year at Eton College in 1870s England. Under the controversially progressive guidance of their Tutor, esteemed scholar William Johnson Cory, the four students discover their relationships and sexual identity. As the year continues, they are faced with the brutal realities of life beyond the isolated walls of school, while embarking on a journey of self-discovery to find the bravery to love in a world that is often unloving.
about the artists
Peter Charney (Music) was given a piano at age 4, and for that he is grateful. This is Peter's second time developing work at Dixon Place following his one-man play The Puppet Show Man, in May 2015. Peter is an associate member of the Stage Directors and Choreographers Society. Gratitude always to Jack, Noah, Tasha, and Lowe 106. BFA: Hofstra University.
Jack Saleeby (Lyrics) is a New York City based actor/writer and proud alumni of the Hofstra Department of Drama and Dance Off Broadway: Molasses in January (Vincent), Regional: Peter Pan (Curly), Jesus Christ Superstar (Apostle). jacksaleeby.com
Noah Silva (Book) is a freelance AEA stage manager based in NYC. He is currently the ASM on The Treasurer at Playwrights Horizons. This is his first full length musical and the first of many collaborations with Jack, Peter, and Tasha. He is a graduate of Hofstra University with a BFA in Theater arts.
Thursday - Saturday, June 7 - 9, 2018 at 7pm
General Admission
$18 in advance
$21 at the door
Stu./Sen./idNYC
$15 in advance
$18 at the door
Estimated Runtime
75 minutes
share £
Credits
Inspired by Morris B. Kaplan's Sodom on the Thames and the words and poems of William Johnson Cory and Reginald Brett, Second Viscount Esher
Book by Noah Silva
Music and lyrics by Peter Charney & Jack Saleeby
Conceptualized with Natasha Z. Cole
Directed by Jean Dobie Giebel
Links