Blanket Statement
Lily Shoretz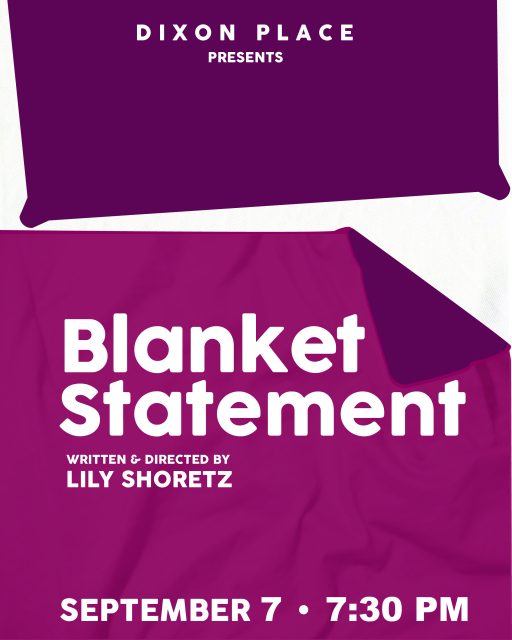 About This Show
A documentary play composed of interviews with college students about their experiences with sex education, both in and out of the classroom. Blanket Statement is compilation of verbatim monologues, sharing stories of awkward conversations and confusing interactions, of shame and fear, of joy and satisfaction. Inspired by consciousness raising, it is political, educational, and cathartic, intended to combat stigma and to promote open discourse. Such work is crucial at any time and especially now, amid a political and cultural climate that threatens to eliminate access to sexual literacy and health care. Recipient of Yale's 2016 Norman Holmes Pearson Prize for the best American Studies senior thesis.
About the artists
Lily Shoretz is an actor, director, and playwright. She received her B.A. from Yale in 2016. A native New Yorker, Lily has studied at Stella Adler and HB Studio and has performed all over NYC–including in the NYC Fringe Festival (Summer 2014) and with the National Yiddish Theater-Folksbiene. She has performed on six continents with two a cappella groups at Yale, Mixed Company and Whim 'n Rhythm. Currently, Lily is the Director of Brand Strategy at Enlightened. Many thanks to Dixon Place and to her mentors, Laura Wexler and Elise Morrison. With gratitude and love to Mom, Dad, Michael, and Joel, and to the Blanket Statement team.
Gabrielle Korn is a producer, director and screenwriter. She graduated from Muhlenberg College in 2016. She was first bit with the festival bug while stage managing a play reading series. Inspired by her work with the TriBeCa Film Festival, Gabrielle paired with The Civic Theater in founding the Fragile Hours Film Festival, featuring seven short films & artists Q&A. She currently works in advertising as a production coordinator and is so excited to partnering with Dixon Place. Thanks and much love to the whole Korn crew, Aggie Bazaz and Dixon Place!
Thursday, September 7 at 7:30pm
General Admission
$15 in advance
$18 at the door
Stu./Sen./idNYC
$12
Estimated Runtime
80 minutes
share £
Credits
Directed by
Lily Shoretz
Written by
Lily Shoretz
Producer
Gabrielle Korn
Assistant Director
Anya Markowitz
Cast
Jordan Bellow*, Tess Forestieri, Jordan Schroeder, Emma Speer, Tom Stilwell, Rosie Yadid.
*Actors appearing courtesy of Actors' Equity Association