Bishoujo + Twisters & Witches-Sneak Peek! + Memorias
Hans Rasch + Arrie Davidson & KineticArchitecture Dance Theatre + Ryan Rockmore (Al Margen Flamenco Dance Company)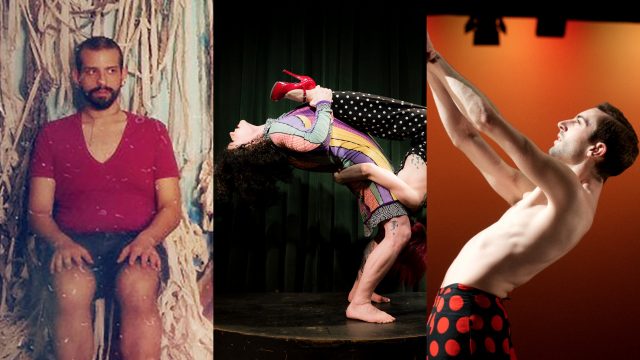 About Bishoujo
Dancers: Claire Landsbaum, Alberto Morales, Hans Rasch.  
Music: Two Tone Killer
Choreographic: Megan Pollard
Escapism and transformation are a part of the Queer narrative. As a young gay boy in Miami, imagination became my refuge from a traditional Latin culture that I did not fit into. Sailor Moon was the catalyst, with characters who live double lives; one mundane, one secretive and extraordinary. Through visual arts I began to explore themes of identity and Queerness, using motifs, design, and stylistic inspiration from Sailor Moon that later melded into my dance and performative arts.
Hans Rasch is a dancer and graphic artist from Miami, FL.  He holds an MFA in Studio Arts from Florida State University, and has shared work with audiences at Fountain Art Fair, Art Basel Miami, Miami Science Museum, Frost Art Museum, Nina Torres Fine Art, Bureau of General Services–Queer Division, been an Artist-in-Residence with Otion Front Studios, and performed with Ballez. His artwork often makes references to the series Sailor Moon, Feminist mythology, Queer and Latino culture, and has an art practice that is focused on Dance as video and installation, Graffiti and Street Art.
About Twisters & Witches-Sneak Peek!
Artistic Director: Arrie Fae Brosnon-Davidson
Dancers: Meghann Bronson-Davidson, Dara Swisher, Brittany Posas, Chloe Markewich,  Chiu-Yi Chiang
Costume Designer: Lori Gassie
Arrie Fae conjures the beloved characters from 'The Wizard Of Oz' as a backdrop for LGBTQ History. 'Twisters & Witches' is a mix of Dance, Cabaret, & Puppetry inspired by survival stories of Queer people. Our histories are the bricks in the yellow brick road. This journey over the rainbow is a physical and emotional challenge of accepted paradigms. Sometimes the only way to find home is to be banished.
Arrie Fae Bronson-Davidson is founder of KineticArchitecture Dance Theatre and believed to be the reincarnation of Ruth St. Denis. She is a Transgender Performance Artist, Choreographer, Writer and Feminist Faerie advocate for social evolution. Major performance credits include Seán Curran Company, Ballet Preljocaj's 'Paysage apres la bataille,' and Justin Bond's 'House of Whimsy.'  Her work has been produced most notably by Dixon Place, Fringe NYC, Inception to Exhibition/Bryant Park Presents Contemporary Dance, Rochester Fringe, Philadelphia Fringe, Dance Month Houston, Mid-America Dance Alliance, The Box-NYC,  DUMBO Dance Festival, NY State Dance Force and the CUNY Dance Initiative.
KineticArchitecture Dance Theatre, a not-for-profit, (501c3), focuses on the development and presentation of new work that is artistically progressive and socially relevant in nature. The goal is to invigorate audiences with the power inherent in Dance Theatre. The urge to move is both primal and universal. It can serve as common ground for physical poetry that inspires true self acceptance along with respect and understanding of all people. Ours is a mission which strives to transcend and transform.
About Memorias
Music by Rocío Márquez
This piece is inspired by memories of a loved one who has passed and the weight they carry in our everyday lives. Even as years go by, we are never fully prepared for those peculiar moments that arise when a reminder comes along, when we long for that person, when we reach for those precious memories, when we hope to never forget… while still tucking away those moments that bring us both joy and pain.
Ryan Rockmore is a gay flamenco dancer in NYC, after living and studying in Spain for years. Since beginning his flamenco studies, Ryan has studied with revered artists including Carmen Ledesma, Merche Esmeralda, La Choni, Victorio Korjhan, La Meira, and Sonia Olla. He has also performed in venues throughout New York, London, Madrid, and Sevilla. After completing a Master's in Dance Anthropology from Roehampton University, Ryan continues to research identity politics, gender performance, and flamenco. His recent essay can be found in Flamenco on the Global Stage (McFarland, 2015). He also recently co-founded, with his dance partner, María de los Ángeles, the Adorno Flamenco Dance Company.
Wednesday, July 19 at 7:30pm
General Admission
$15 in advance
$18 at the door
Stu./Sen./idNYC
$12
Estimated Runtime
40 minutues
share £
Credits
Photo credit:
Multiple credits (for Hans), Magnus Beuys (for Arrie), Lauren Van Gijn (for Ryan)
Links