and after, we dreamt of purple
Nico Della Fave & V. Greene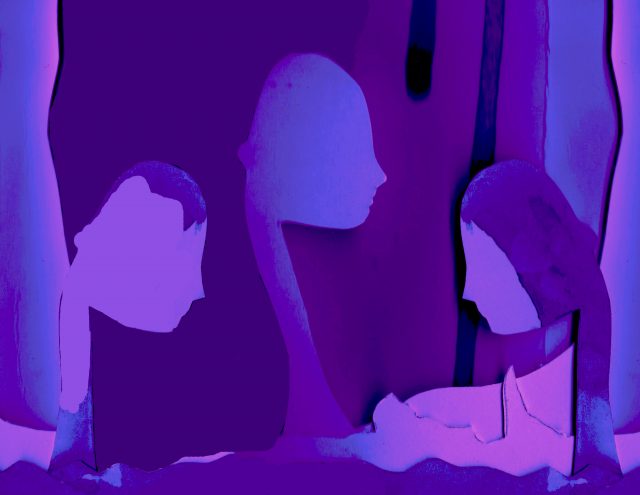 About This Show
and after, we dreamt of purple is a play that takes place behind closed doors. We watch Charlie, Jesse, and Halle, as they navigate mental illness, queerness, and their relationships to each other and themselves. This play explores the way we scream when emotions feel too big and laugh when our corners seem too scary. This is a play with trans people. This is not a play about being trans.
about the artists
V. Greene is a director based in New York City. As a non-binary theatre maker they explore the potential of queered practices in confronting power, control, beauty, and violence. They received their BA from Hampshire College with the completion of their thesis: Being Bitch Enough; Feminist Direction and Taking Back Space. V. recently worked as the assistant director on HVMLET at the SheNYC Arts Festival, on Shakespeare In Love at the Oregon Shakespeare Festival, and various readings at the Singapore Literature Festival. They have also worked with Cornerstone Theater Company, California Shakespeare Theater, and the Critical Media Institute at Hampshire College.
Nico Della Fave (playwright) is a writer based in New York City. He is a graduate of Hampshire College, where he studied theater, creative writing, and critical cultural theory. Nico's work explores the use of humor in navigating struggle, and the tenuous relationship between fantasy and reality. Nico is a big proponent of "dick jokes for social change".
Thursday, July 20 at 7:30pm
General Admission
$15 in advance
$18 at the door
Stu./Sen./idNYC
$12
Estimated Runtime
90 minutes
share £
Credits
Directed by
V. Greene
Written by
Nico Della Fave
Cast
Ash Laraque-Ho, Grayce Toon, Amber Avan, Mark Hawkins, Wessel van Schaik
Photo credit
Skye Murie
Links