in the lounge

American Hero

Mary DeCarlo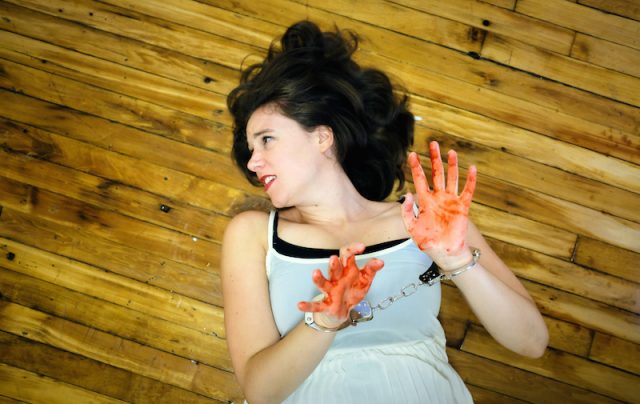 About This Show
America, meet Bea. All Bea ever wanted was to be a hero, but now she's discovering she may just be a villain. That's what happens when you don't come to make friends. If you didn't catch her on last season's hottest reality show, America's Next Top Hero, you can get the full recap of her sorry tale in her live event American Hero! You'll watch her beg for absolution and decide whether or not she has done her penance. Her fate is in your hands!
Watch Bea's Audition Tape for America's Next Top Hero here
about the artists
Mary DeCarlo is a playwright and actor. Her short plays have been shown at The Wild Project, The Exquisite Corpse Company, and Primary Stages ESPA Detention Series. Her full lengths have been seen in NYC and Heidelberg, Germany. Currently, she is starring in Everyone Else Has: the web series, which she co-wrote. She has an MA in Text and Performance from the Royal Academy of Dramatic Art and Birkbeck University of London as well as a BFA in Acting from Arcadia University.
Rachel Levens graduated from Cornish College of the Arts. She received her BFA in Theater with an emphasis in Original Works. Rachel is a new play director, divisor, dramaturg, and teaching artist. She has directed HYENA (La MaMa, Edinburgh Fringe Festival, & United Solo) The Expulsion (Thespis Theatre Festival at The Hudson Guild), Tourist Trap (The Radium Girls), and Madigan and the Magic Box (Dixon Place). Rachel has participated in The Fast and The Furious at The Tank and in the Wild Project's 48 Hour 10 Minute Play Festival. Rachel volunteers at CO/LAB Theater Group and The 52nd Street Project.
Autumn Mirassou (Host) is first and foremost an actress who has taken part in the NY rites of passage of producing, directing and writing several plays. Most recently she starred in A Whistle in Mississippi: the Lynching of Emmett Till (Harlem), Rhinoceros (Lynn Redgrave Theater), Two Conceive (Hudson Theater Festival) and a few short play readings on Governor's Island. When she's not working or playing on stage, she is building her personal health and wellness business in Brooklyn, reading graphic novels and playing ukulele and thumb piano. She received her MA in acting from the Royal Central School of Speech and Drama in London.
Friday, November 17, 2017 at 7:30pm
Estimated Runtime
45 minutes
share £
Credits
Writer, Actor
Mary DeCarlo
Director
Rachel Levens
Actor
Autumn Mirassou
Projection/Lighting Designer & Board Operator
Madison Hartke-Weber
Photo credit:
Shona Blumeneau
Links