Poof the Band!

A Lesson In Being Smothered By A Dragon

A Gothic Opera

How a River Carries You Kate Brehm with Anthony Napoletano, Hannah Schilsky, Dorothy James, and Charlotte Maroz
Charlotte Durkee & Lilith Bachelder
Fairy Tale Marionettes
Hyung Seok Jeon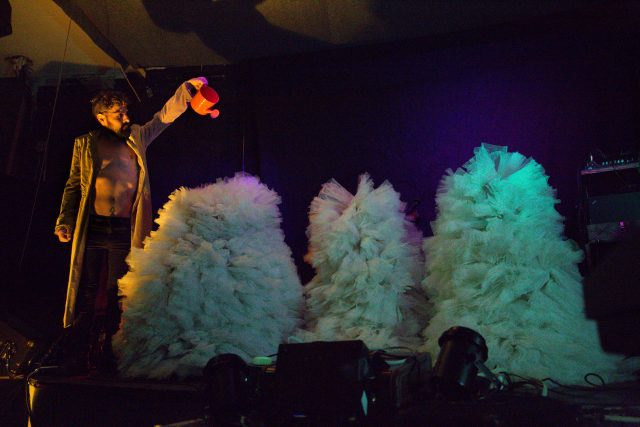 about Poof the Band!
Over the last 8 years, the nondescript, slightly confounding Poof puppets (designed by Kate Brehm) have appeared across many genres and contexts: as public and gallery art, immersive installations, party favors, theater, caged circus animals, and friends to clowns.  Never, during all that time, did the Poofs attempt to play music. In this never-before-witnessed configuration, the Poofs 'opened' for a real band, Sound of Ceres, for three weeks in the summer of 2017. Mixed with the urchins and bacteria from a dark and dirty bar, Poof the Band! was born.
Music written by Sxip Shirey, The Cocteau Twins, Alain Bashung, and Michel Polnaroff
KATE BREHM is a movement director who performs and devises original works of visual theater using objects and physical acting. Her New York based company, imnotlost, has been producing theater and events since 2003. She teaches performers practical and theoretical tools for performative visual thinking through her classes, Moving Objects and Performing Design. Her essay, Movement is Consciousness, is published in the Routledge Companion to Puppetry and Material Performance.  She is trained in the Margolis Method of Physical Acting. Select projects: Basil Twist – Rite of Spring, Dogugaeshi, Petrushka; imnotlost – Things Fall Apart, Discrepancies, The Eye Which We Do Not Have.
about A Lesson In Being Smothered By A Dragon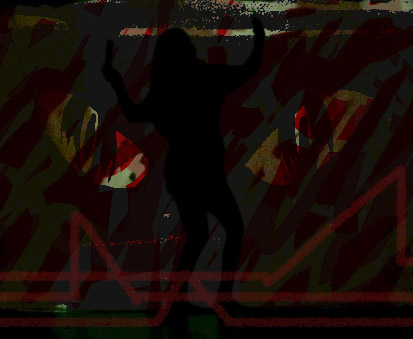 Addie is not happy. Addie works at a home movie theater in the city. Addie has a foreboding feeling that a dragon is coming to smother them. Indeed, there is a dragon coming to smother Addie and there is nothing to be done. "A Lesson In Being Smothered By A Dragon" is a short play about our sometimes keen ability to allow ourselves to be smothered by our own personal dragons.
Main collaborators/ puppeteers: Lilith Bachelder, Sarah Martinez, Maria Radulescu
Music by: Rick Cutler
Charlotte Durkee is a performer, director, designer and writer from New York, NY. Her work is guided by the melding of the hand-made and digital, the world of theater and fine arts. She is about to start her last year of the undergraduate program at the New School for Drama where she will be getting a BFA with a minor in creative technologies. Some of her previous work includes conceptual design on a 360 video/theatrical experience of Beckett's Waiting for Godot, projection and sound for the play adaptation of Georg Büchner's Lenz, and featured sound design on Dan Hurlin's Demolishing Everything with Amazing Speed at Bard college.
about A Gothic Opera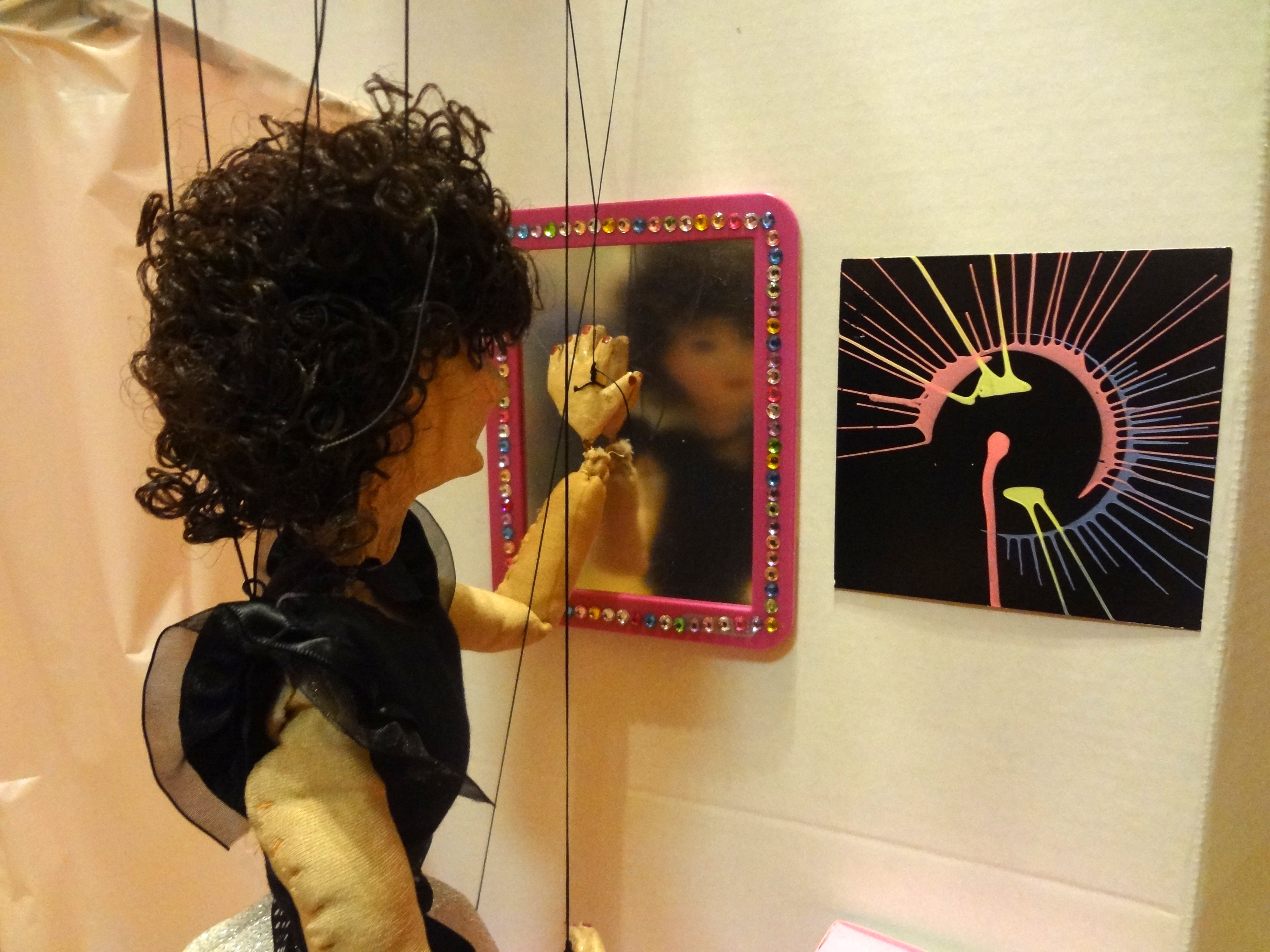 A Gothic Opera is a true tale of love, lust, trust, and deceit, set in the seedy underbelly of the 90s club scene in the Lower East Side, as told by marionettes set to an original goth rock score.  The soundtrack is influenced by The Smiths, Soft Cell, Depeche Mode, The Cure, and other popular new wave, synth pop, and goth rock groups from the 80s and 90s.
Puppeteer / Choreographer / Builder Arlee Chadwick
Writer / Director / Builder / Puppeteer Katharine Kaspar
Composer / Singer Rob Berry
Lyricist Carey Burtt
Arlee Chadwick has performed for kids all over the world.  Most recently, Arlee wrapped up production as a principal cast member of the off-Broadway production of That Golden Girls Show – A Puppet Parody, performing as "Rose."
Katharine Kaspar has curated art shows and other creative events at venues across NYC.  She has also produced multiple television shows for public access television, featuring music, art, and puppetry.
Rob Berry arranges and performs original music and plays ten different instruments. He studied Audio Production in Boston, and songwriting and composition in Nashville.
about How a River Carries You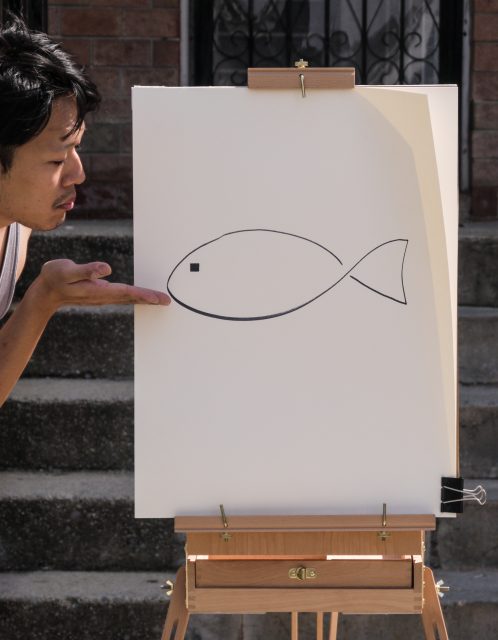 With the text written by Sifiso Mabena, this poetic piece explores a sense of arrival and departure though minimalist puppetry. A canvas stands on an easel. A whale visits the canvas. The whale floats like a house. This abstract place around an easel will knock on the door of your pre-verbal brain.
Text & Sound Design Sifiso Mabena
Hyung Seok Jeon is a South Korean multi-disciplinary theatre maker based in NY. He also works as a film editor, and videographer. His short film Autumn (2014) was installed as a looped video installation at the 21st Watermill Center Annual Benefit by the artistic director Robert Wilson. On stage, his recent work includes the performance in Tough, the Tough (Redux: Steve) (2016) directed by David Neumann and Sandra Kramerova's Portal: Game On (2017). He also co-created & performed in Breakfast After I Die (2017), with Rourou Ye. He received Fulbright Graduate Study Award and graduated from Sarah Lawrence College with an MFA in Theatre this May.
Sifiso Mabena was chosen for a Royal Court Theatre workshop in South Africa; and her play, The Comeback toured Zimbabwe following a debut at Harare International Festival of the Arts where it won HIFADirect. She taught Drama at International School of South Africa.
Made possible in part with funds from the Jim Henson Foundation.
Monday, October 16, 2017 at 7:30pm
Estimated Runtime
65 minutes
share £
Credits
Photo credit:
Katharine Kaspar (for A Gothic Opera), Adjua Gargi Nzinga Greaves (for How a River Carries You), Maxx Serpica (for Poof the Band!)
Links