2017 Artists in Residence
Each year, we select three emerging artists for 4-month residencies, providing 120 hours of workshop space, technical support and a stipend. Artists-in-residence have the opportunity to culminate their time at Dixon Place with a work-in-progress presentation. By invitation only.
CB Goodman (January – April)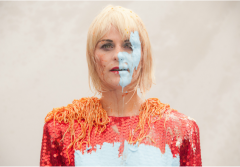 CB Goodman creates theatre and puppetry that incorporates disparate source materials and object manipulation, blurring the lines between truth, lies and theatricality. Her work has been presented at venues in Austin, New Orleans and NYC; and she has worked with such artists as Dan Hurlin, Tom Lee, David Neumann, Koryu Nishikawa V, and The Rude Mechanicals.
Taja Lindley (May – August)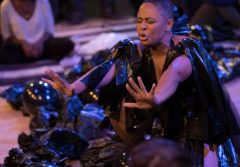 With movement, text, installation, ritual, and burlesque, Taja Lindley creates intimate, immersive performances concerned with freedom, healing and pleasure. During her residency, she is developing The Bag Lady Manifesta, a multi-media piece that repurposes discarded materials and invokes a living Sankofa preaching an urgent theology of memory.
Photo Credit: Eric Lippe
Candace Thompson (September – December)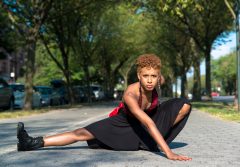 Originally from Trinidad and Tobago, Candace Thompson is a dancer/choreographer/cultural producer fluent in Modern, Contemporary, Caribbean, Afro-Diaspora and Soca Dance. Candace is the Artistic Director of ContempoCaribe and Founder Director of Dance Caribbean COLLECTIVE, an initiative to create platforms for Caribbean dance in NYC.
Photo Credit: Shoccara Marcus