PEN World Voices Festival of International Literature

Women in Ink

Liza Donnelly, Roz Chast, Liana Finck, Rayma Suprani & Emily Flake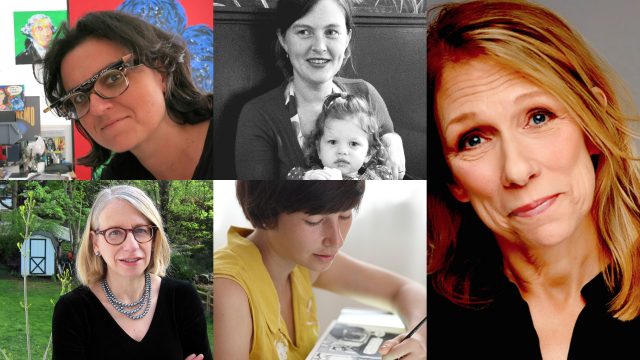 About This Show
Liza Donnelly of The New Yorker brings together editorial cartoonists Roz Chast, Liana Finck, Rayma Suprani and Emily Flake to discuss the unique challenges of succeeding in a male-dominated field.
about the panalists
Rayma Suprani Is a Venezuelan press cartoonist who was born in Caracas. For 19 years, she published her cartoons in El Universal in Venezuela. She is Member of Cartooning for Peace Association and one of the protagonists of the film Caricaturists – Footsoldiers of democracy, by Stéphanie Valloatto. In 2015, she gives conferences on the defence of human rights for the Freedom House organization and the Oslo Freedom Forum.
Emily Flake is a cartoonist, writer, and illustrator living in Brooklyn, NY. Her most recent book is called Mama Tried: Dispatches From the Seamy Underbelly of Modern Parenting. Her work appears regularly in the New Yorker, MAD, the Nib, and many other, less reputable publications. She is also the creator of Lulu Eightball, a long-running alt-weekly strip.
Roz Chast is a longtime cartoonist for The New Yorker. Her most recent book, Can't We Talk About Something More Pleasant?, a graphic memoir about her parents' final years, was a finalist for the National Book Award for non-fiction in 2014.
Liana Finck's work appears regularly in The New Yorker, The Awl, Catapult, and on her Instagram feed. Her first book, A Bintel Brief, was published by Ecco in 2014.
Liza Donnelly is an award winning cartoonist and writer for The New Yorker Magazine and The New York Times, and is resident cartoonist at CBS News. Donnelly's book, Women On Men, was a finalist for the Thurber Prize for American Humor, and her history of women cartoonists, Funny Ladies, is considered a resource for historians of the art form.  Donnelly delivered a TED talk that was translated into 38 languages, and received 2 million online views.  She lives in New York.
Saturday, May 6 at 12pm
Estimated Runtime
90 minutes
share £
Credits
Photo credit:
John Pastore (for Emily)
Bill Franzen (for Roz)
John Madere (for Liana)
Eric Korenman (for Liza)
Links