We make our own games.
Paper Dances, by Sam Robbins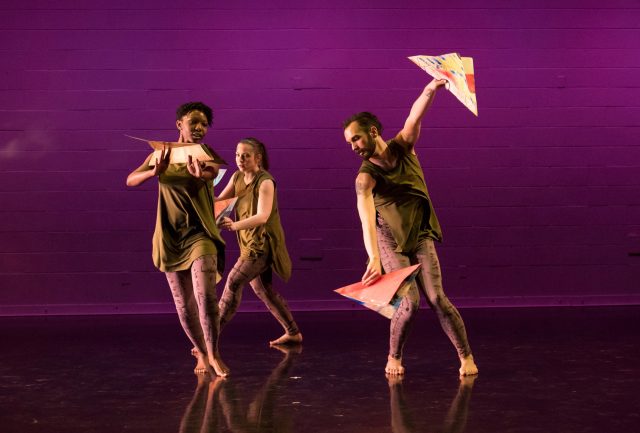 About This Show
As children, our freedom and creativity, sense of play, storytelling ability, and constructive tendencies inspired our parents and teachers to believe in our ability to do and be more. As grown ups we've lost the ability to play, and live in a world full of anger, hostility, war, and violence. This performance revisits a time when the world was full of innocence, happiness, wonder and, most importantly, play.
about the artists
Sam Robbins, choreographer and dancer: Sam received a BFA in Dance at the University at Buffalo, graduating in spring of 2011. After performing with various artists in Buffalo and Upper Michigan, Sam returned to school for a master's in dance from Sarah Lawrence College, graduating spring of 2016. It was there that Sam rediscovered a love of origami and paper art, and explored puppetry and dance together for the first time. Sam also pursues a career teaching yoga, and has performed works under LeAnn Yannelli in Westchester and Northern New Jersey for the past year. This is Sam's New York debut work.
Stephanie Coleman, dancer: Stephanie hails from small town Ohio where she grew up taking lessons at Jeraldyne's School of the Dance. In high school, she performed with DCDC II of Dayton, Ohio and continued dancing through her college years. She moved to New York three years ago for a job in the library of her alma mater, Sarah Lawrence College. It was there that her study and practice in dance was rekindled. She has been daylighting as an archivist and moonlighting as a dancer ever since.
Emily Goucher, dancer: Emily Goucher is an information technology professional and dancer at her alma mater, Sarah Lawrence College, where she has had the pleasure of studying and performing with many talented artists over the years. In her free time, she runs her own web development/hosting company and explores NYC infrastructure.
Tuesday, August 29 at 7:30pm
General Admission
$15 in advance
$18 at the door
Stu./Sen./idNYC
$12
Estimated Runtime
60 minutes
share £
Credits
Dancers
Stephanie Coleman, Emily Goucher
Original Music by
Jon Lloyd, William Catanzaro and Sam Robbins
Photo credit:
Paula Court