Village Voices
Frack Theatre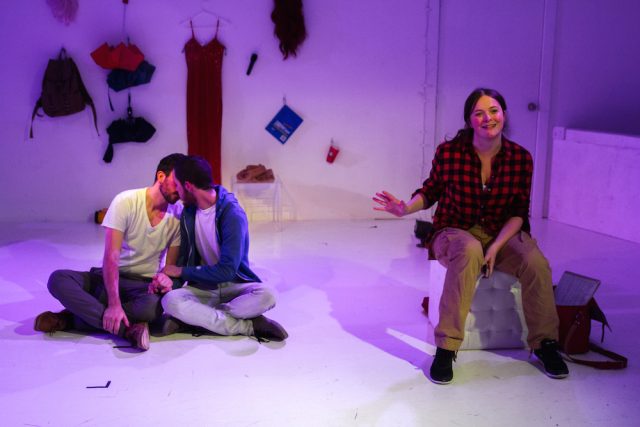 About This Show
Told in their own words, Village Voices is a series of interviews with real-life characters in New York's West Village examining first hand accounts of events including the Stonewall Riots, the HIV/AIDS epidemic and life as a homeless trans youth in 21st century America. The underprivileged and forgotten, these interviews bring to life an unknown world that is at times heart-breaking but always gilded with hope and triumph in the face of overwhelming odds.
about the artists
Hannah Ryan: Resident Director Hamilton: An American Musical Broadway, Chicago and US Tour, An American in Paris on Broadway, Director Every Path (La Jolla Playhouse & Moxie Theatre) The Guys (Davenport Theatre) The Big Announcement (Drama League Rough Draft) Let's Misbehave: A Tribute to Cole Porter (Mr. Finn's Cabaret) Cendrillon and Gianni Schicchi (Point Loma Opera Theatre) Twelfth Night, A Midsummer Night's Dream, The Forced Marriage, Only in New York, et al (Point Loma Playhouse).  Associate Director: The Curious Incident of the Dog in the Night-Time on Broadway. Drama League Director's Project Fellow. SDC Foundation Denham Fellow. Founding member of Nettleworks hannahmryan.com
Lindsay Morris is a creative producer of events, campaigns, and stories. In 2013, she moved from Australia to New York and became the Director of Engagement at Girl Rising. Since then, Lindsay has gone on to consult on a wide range of film projects including Playground, the upcoming Bill Nye: Science Guy, and Gleason, which was recently hailed by Rolling Stone as "the most inspiring documentary of the year." She is also a contributor to The Nantucket Project. Lindsay is a co-founder of Frack Theatre, whose works have been featured in The New York Times, The Wall Street Journal and NewsWeek.
Oscar Lopez is an award-winning journalist and playwright. His writing regularly appears in the Guardian, the Telegraph, the Washington Post, Newsweek, Time and many more. Oscar's writing focuses on politics and human rights issues, specifically on refugees and LGBT rights. Originally from Mexico, Oscar regularly produces off-Broadway work with his New York-based theatre company, Frack Theatre. Oscar is a graduate of Melbourne University and is completing a Masters in Creative Writing at Oxford University.
Before moving to New York, Sam Clark worked extensively in Australia on a range of projects including two new Australian works April's Fool by David Burton and Often I Find That I am Naked by Fiona Sprott, both of which toured nationally. Other credits include The First Fifty Years, Huckleberry Finn, Dracula (East Lynne TC) Much Ado About Nothing (Frog & Peach) Rabbit (The Good Room) and Motortown (23rd Productions) as well as the Queensland Premiere of The Lieutenant of Inishmore by Martin McDonagh. He is a proud member of AEA and SAG-AFTRA, and has studied with renowned acting teacher, William Esper.
Tuesday, September 26 at 7:30pm
General Admission
$15 in advance
$18 at the door
Stu./Sen./idNYC
$12
Estimated Runtime
60 minutes
share £
Credits
Playwright, Producer
Oscar Lopez
Producer
Lindsay Morris, Samuel Douglas Clark
Director
Hannah Ryan
Photo credit:
Justin McCallum
Links